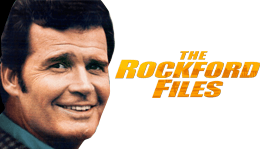 The Rockford Files TV Episodes
---
Only recently I started watching the The Rockford Files via my Blu-ray player and started placing it in my classic 70's collection along side the likes of Columbo. So for my reference I decided to place the episodes with photos as an easy catchup of my favourite episodes.
Note: You will recognise loads of people who appear in other programes of that era, such as Columbo, Battlestar Galactica etc.
I also can't take the credit for the descriptions since I just copied them from the official boxset.
The Rockford Files Episode Guide Listings By Seasons
Pilots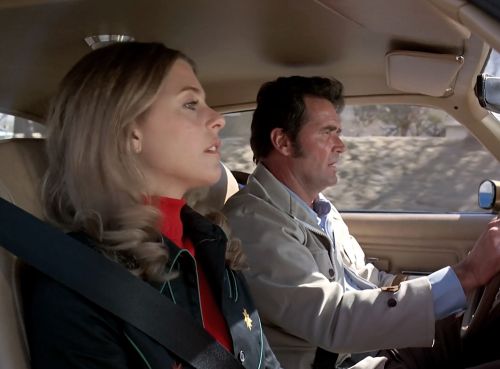 Backlash of the Hunter (2 Episodes)
Broadcast: 27th March 1974
4 / 5
Rockford is approached by a young woman trying to find out whether her father was murdered or, as reported, committed suicide.
Season 1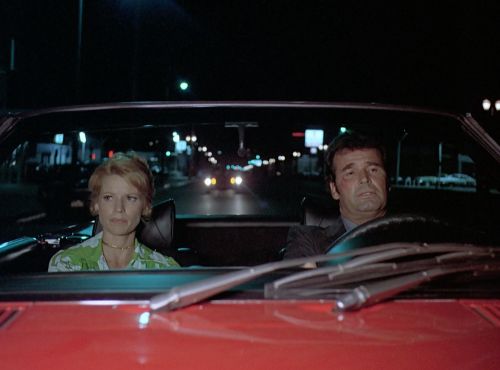 The Kirkoff Case
Broadcast: 13th September 1974
5 / 5
Jim Rockford is hired by the heir to a family fortune to find the slayers of his parents, although police are convinced the heir is guilty of the crime.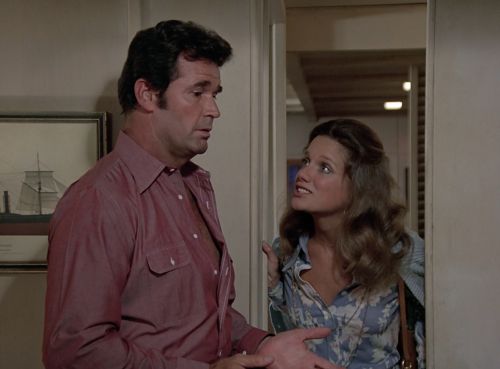 The Dark and Bloody Ground
Broadcast: 20th September 1974
5 / 5
When private-eye Rockford succumbs to the pressures of his attorney friend to investigate a homicide involving a screenwriter, he suddenly becomes a target of would-be assassins.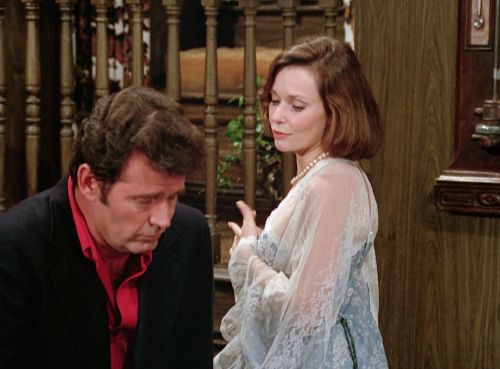 The Countess
Broadcast: 27th September 1974
4 / 5
A wealthy Texan's wife, enjoying the affluent life, is suddenly confronted by a hoodlum who remembers her jumping bail on a minor charge and tries to blackmail her to insure hs silence.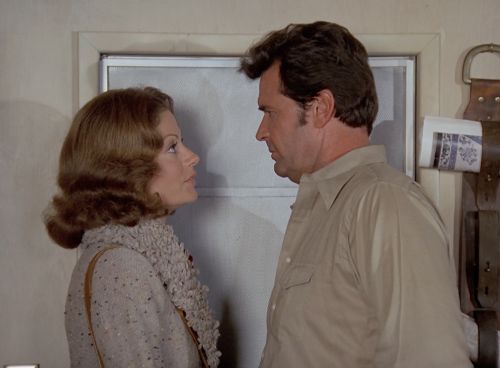 Exit Prentiss Carr
Broadcast: 4th October 1974
4 / 5
In doing a favor for a longtime friend, Rockford checks on a philandering husband and finds him dead under mysterious circumstances.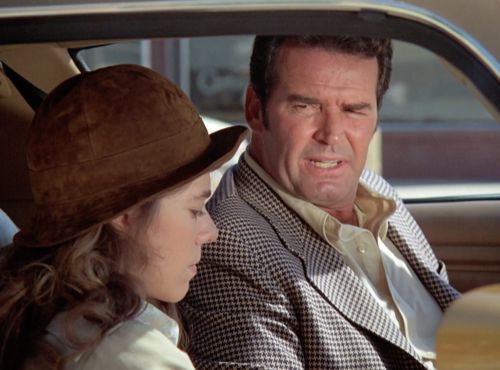 Tall Woman in Red Wagon
Broadcast: 11th October 1974
5 / 5
Rockford disguises himself as a coffin salesman, a psychiatrist and an Internal Revenue agent as he pursues a strange trail left by a missing beauty.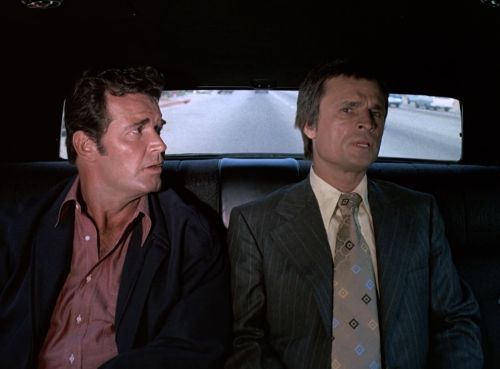 This Case Is Closed (2 Episodes)
Broadcast: 18th October 1974
4 / 5
A tycoon hires Rockford to investigate his prospective son-in-law, suspecting his portfolio is too good to be true. Part 2.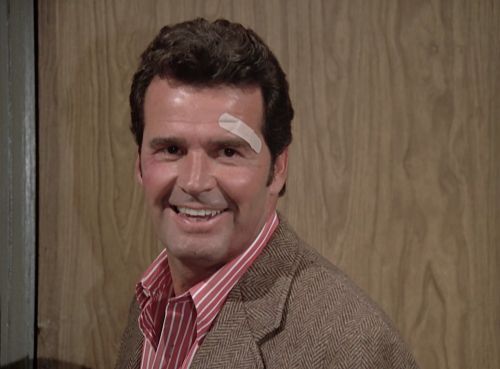 The Big Ripoff
Broadcast: 25th October 1974
4 / 5
Rockford believes that an insurance company was taken for $400,000 in settling with the lone survivor of a plane crash.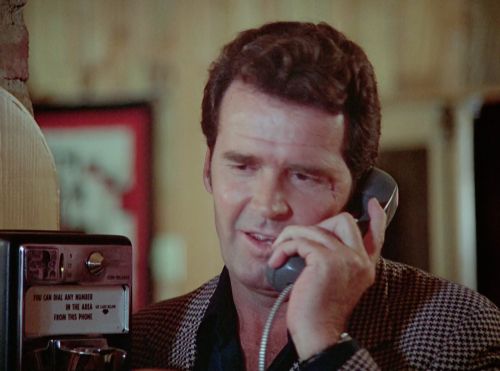 Find Me If You Can
Broadcast: 1st November 1974
5 / 5
A girl hires Rockford to find out who she is, and the baffling trail leads the private eye to Denver and an underworld kingpin.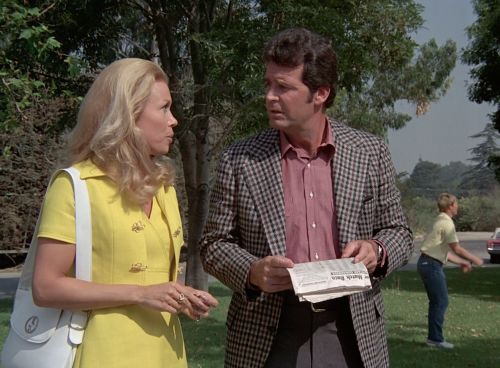 In Pursuit of Carol Thorne
Broadcast: 8th November 1974
4 / 5
Rockford is hired to trail a girl just released from prison, hoping she will lead him to $1 million.
The Dexter Crisis
Broadcast: 15th November 1974
4 / 5
A businessman hires Rockford to find his missing girlfriend, but doesn't inform the private eye that she's made off with $250,000.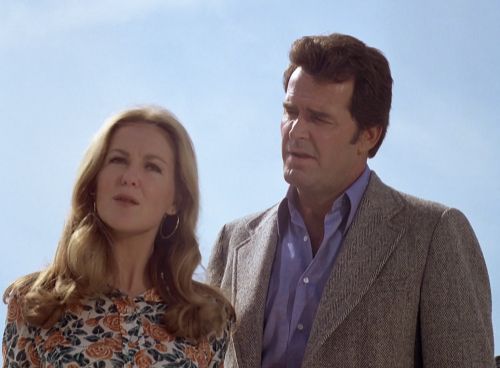 Caledonia - It's Worth a Fortune
Broadcast: 6th December 1974
4 / 5
Hired by a convict's wife to find a fortune hidden on a ranch, Rockford encounters obstacles on both sides of the law in pursuit of the case.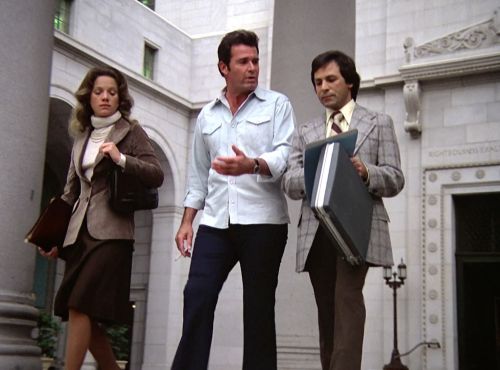 Profit and Loss: (Profit) Part 1
Broadcast: 20th December 1974
4 / 5
Kidnappers knock out Jim Rockford while abducting a client from his trailer who was involved in a stock price manipulation.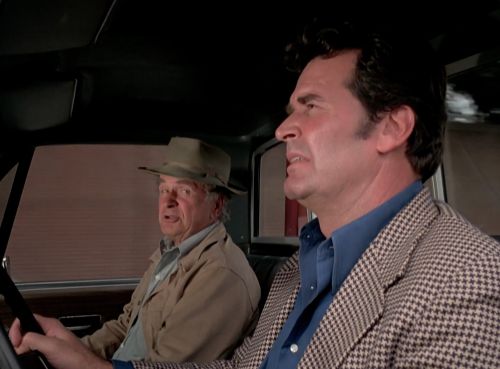 Profit and Loss: (Loss) Part 2
Broadcast: 27th December 1974
4 / 5
Rockford and his client "burglarize" a print shop, searching for clues which will lead to stock market fixing and homicide.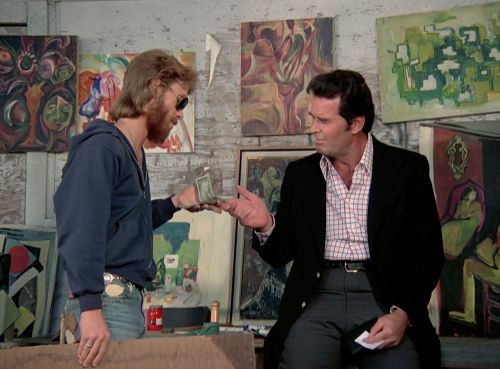 Aura Lee, Farewell
Broadcast: 3rd January 1975
4 / 5
The operator of a boutique shop hires Rockford again to solve the homicide of her friend, this time involving a state senator and a conman.
Sleight of Hand
Broadcast: 17th January 1975
4 / 5
Rockford launches a search for his girlfriend who has disappeared suddenly, and the trail leads to a fugitive syndicate chief.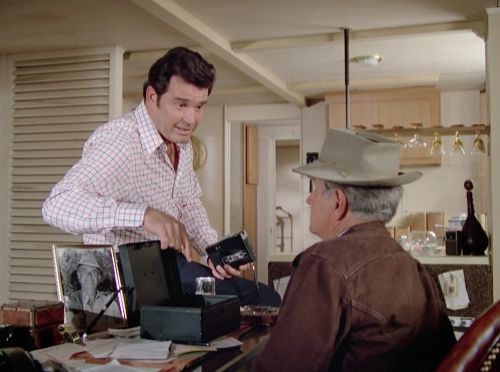 Counter Gambit
Broadcast: 24th January 1975
4.5 / 5
A convict hires Rockford under the pretext that he wants to find his girl, when he actually is after her jewelry. Rockford then gets into a battle of wits over a pearl necklace and a pretty woman.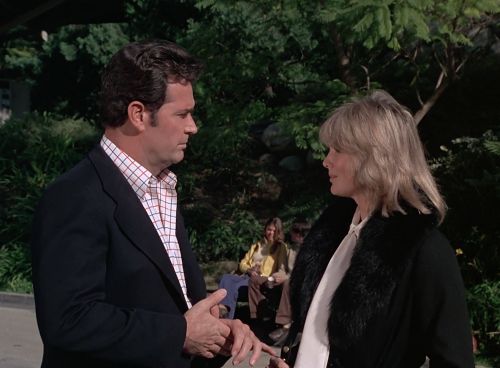 Claire
Broadcast: 31st January 1975
3.5 / 5
Rockford does a favor for a former fiancee and is promptly plunged into a tug-o-war between police and the underworld. She persuades him to check on a "friend" under the pretence that she is being victimised by a loan shark.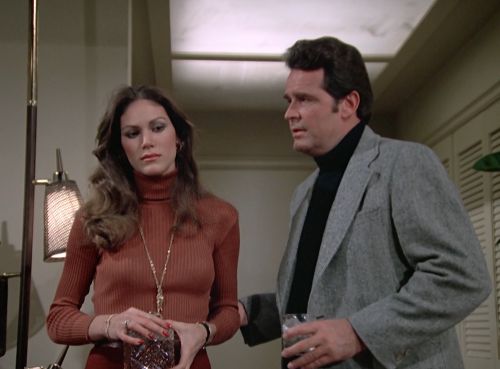 Say Goodbye to Jennifer
Broadcast: 7th February 1975
4 / 5
Rockford's uncanny knowledge of fashion models' quirks leads to the solution of a homicide which involves a model, a dentist, a photographer and the underworld.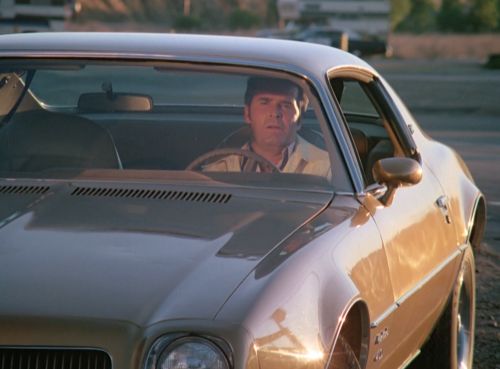 Charlie Harris at Large
Broadcast: 14th February 1975
4 / 5
A playboy who is suspected in the death of his wealthy wife turns to his former prison cellmate, Rockford, to prove his innocence.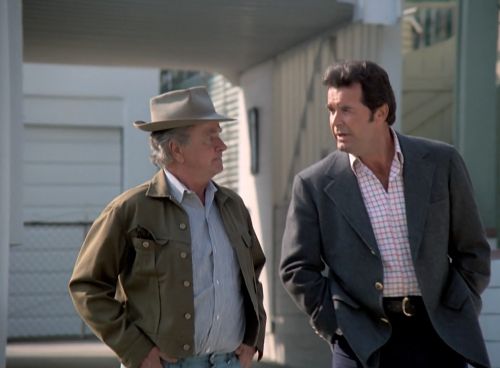 The Four Pound Brick
Broadcast: 21st February 1975
4 / 5
Although police write off a rookie's death as accidental, Rockford reopens the case which causes repercussions in police and underworld circles.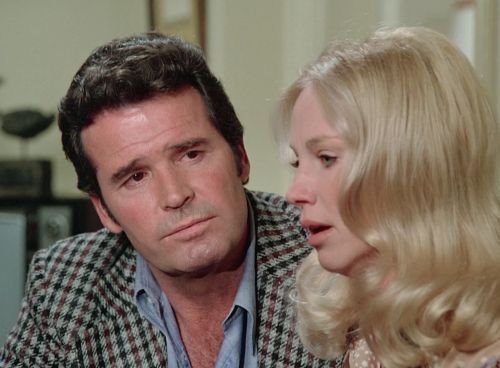 Just by Accident
Broadcast: 28th February 1975
4 / 5
A stock car driver dies in what police term a traffic mishap, but Rockford, hired by the victim's wealthy mother, reopens the case and uncovers a clever insurance-claim racket.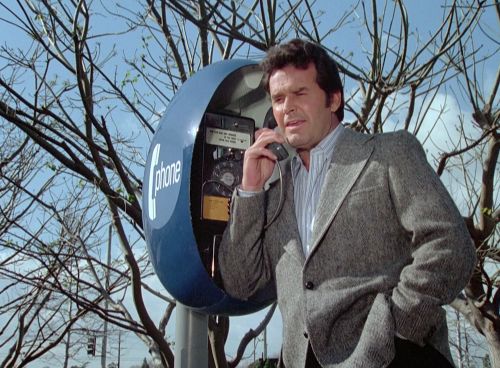 Roundabout
Broadcast: 7th March 1975
5 / 5
Jim is hired to deliver an insurance check to a recording artist, but discovers she is the prisoner of a syndicate who is exploiting her.
Season 2
The Aaron Ironwood School of Success
Broadcast: 12th September 1975
4 / 5
Private-eye Jim Rockford welcomes home his childhood foster brother, who is now worth millions through a franchise scheme, and is induced to protect him from the underworld.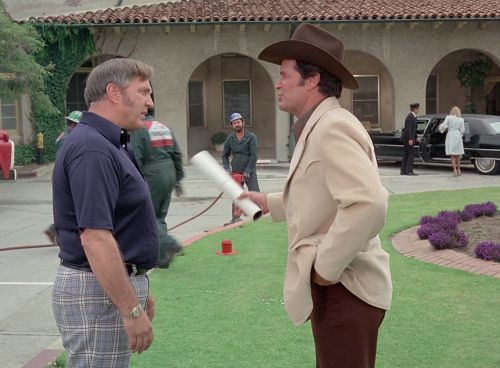 The Farnsworth Stratagem
Broadcast: 19th September 1975
5 / 5
Jim combats a group perpetrating a fraud on his friend Det. Becker, with a scheme using jack-hammers and an oil rig.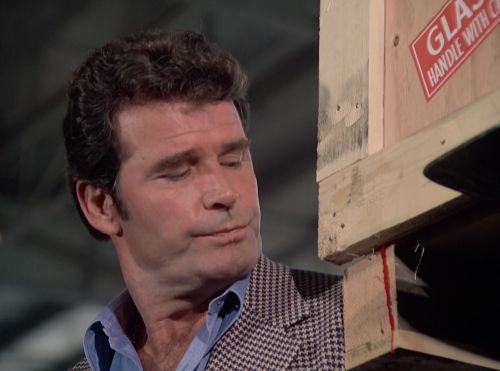 Gearjammers: Part 1
Broadcast: 26th September 1975
4 / 5
Jim searches frantically for his father, Rocky, who becomes the target of assassins after he observes an underworld payoff.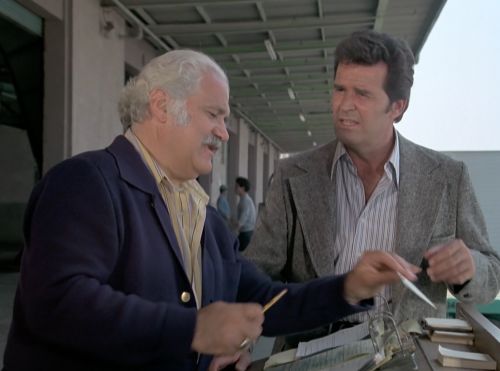 Gearjammers: Part 2
Broadcast: 3rd October 1975
4 / 5
Though assassins fail to get Rocky the first time, they continue their effort while Rockford and the police zero in on a bizarre hijacking scheme.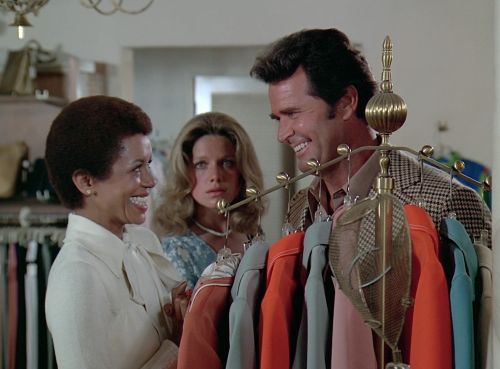 The Deep Blue Sleep
Broadcast: 10th October 1975
4 / 5
Jim Rockford's search for a missing model uncovers a homicide trail through a leading fashion studio.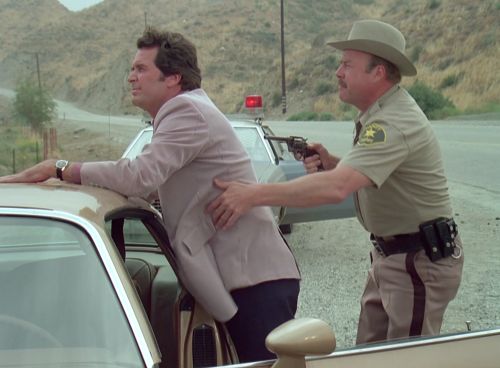 The Great Blue Lake Land and Development Company
Broadcast: 17th October 1975
4 / 5
While trying to recover $10,000 stolen by a salesman, Rockford uncovers a huge land swindle.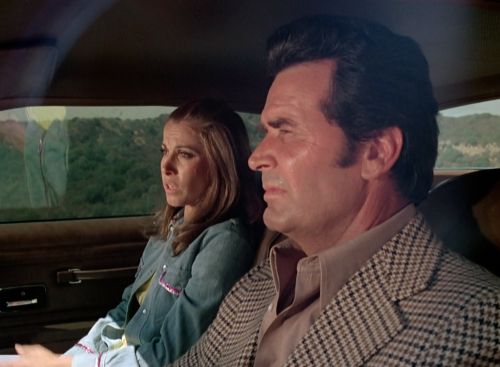 The Real Easy Red Dog
Broadcast: 31st October 1975
5 / 5
A woman private eye dupes Rockford into working as her decoy on a phony case.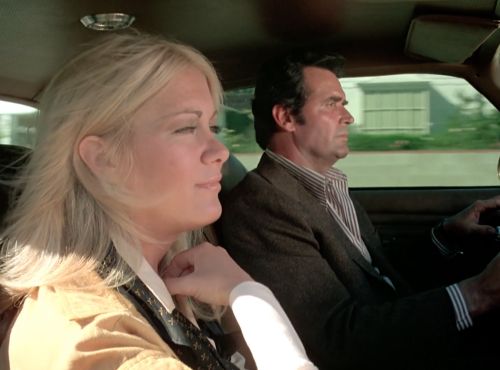 Resurrection in Black and White
Broadcast: 7th November 1975
4 / 5
Jim is hired by a magazine writer to help her free a convict she's convinced is innocent of homicide.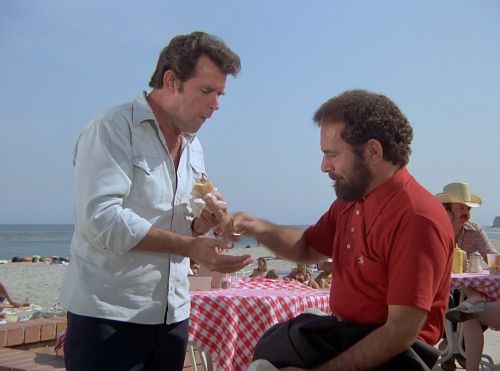 Chicken Little Is a Little Chicken
Broadcast: 14th November 1975
5 / 5
Jim is tricked into helping collect a debt owed to his cellmate Angel and together they become the targets of an underworld mobster.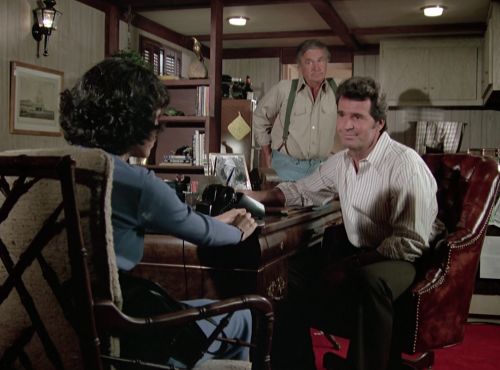 2 Into 5.56 Won't Go
Broadcast: 21st November 1975
4 / 5
Rockford investigates the "traffic" death of his old Army commander at the request of the officer's daughter, and uncovers an arms smuggling ring.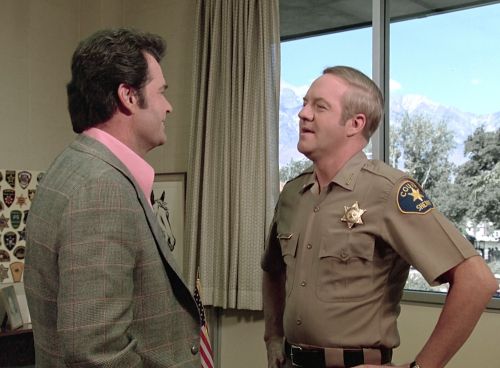 Pastoria Prime Pick
Broadcast: 28th November 1975
4.5 / 5
While waiting for his car to be repaired in the small town of Pastoria, Rockford uncovers a criminal scheme concocted by the local prosecutor, the sheriff and the mayor.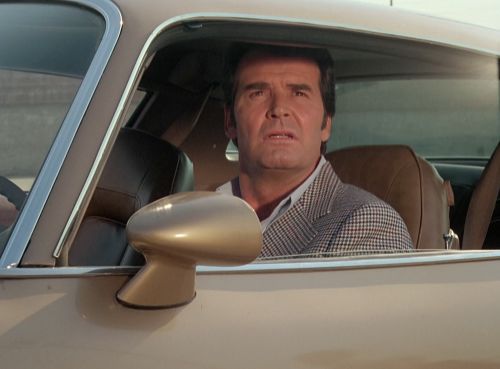 The Reincarnation of Angie
Broadcast: 5th December 1975
4 / 5
A bookkeeper hires Rockford to find her missing brother, a stockbroker who is also being sought by federal agents.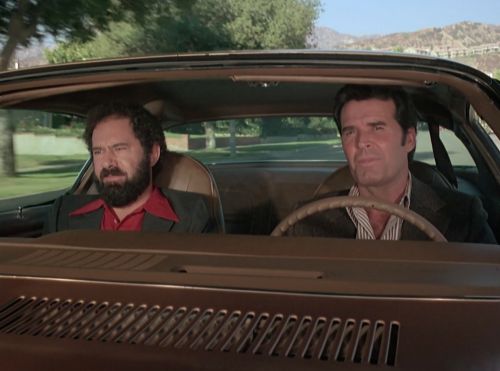 The Girl in the Bay City Boys Club
Broadcast: 19th December 1975
5 / 5
Rockford poses as a newspaper publisher when he infiltrates a "charity" club for a mysterious client who suspects a rigged gambling operation.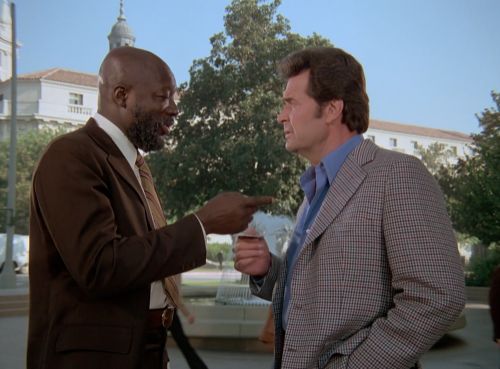 The Hammer of C Block
Broadcast: 9th January 1976
4.5 / 5
A one-time prostitute, now well married, holds the key to a slaying of the wife of a former cellmate of Rockford who has served 20 years for the crime.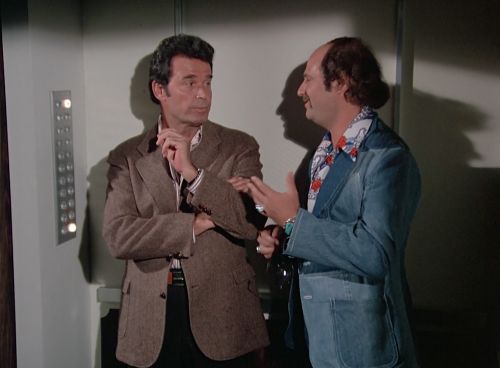 The No-Cut Contract
Broadcast: 16th January 1976
4 / 5
A small-time quarterback makes Rockford the target of both mobsters and federal agents when he implicates him in a blackmail scheme.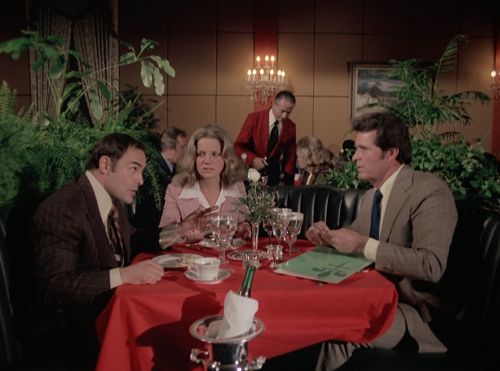 A Portrait of Elizabeth
Broadcast: 23rd January 1976
4.5 / 5
A suave eastern lawyer hires Jim to investigate charges of larceny in the western office of a company he represents.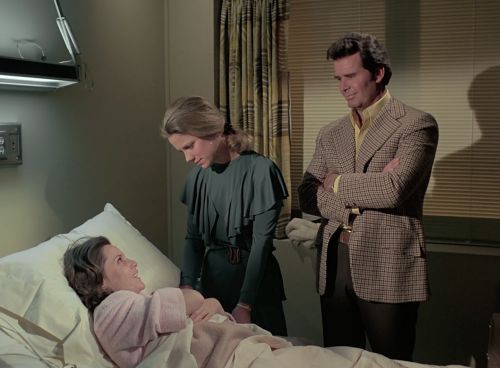 Joey Blue Eyes
Broadcast: 30th January 1976
4 / 5
An ex-convict trying to go straight hires Rockford to combat efforts by his former associates to move in on his legitimate business.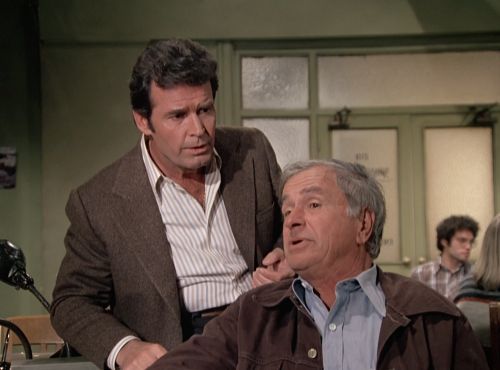 In Hazard
Broadcast: 6th February 1976
4 / 5
Attorney Beth Davenport enlists the help of Rockford when she discovers that some of her clients have activities that extend into the underworld and she has become the target of an assassin.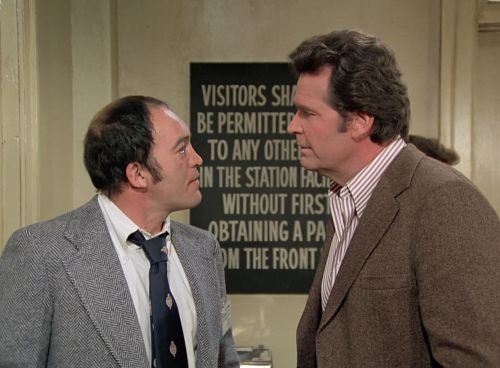 The Italian Bird Fiasco
Broadcast: 13th February 1976
5 / 5
Rockford purchases a rare sculpted bird and the art treasure involves him with an international smuggling ring.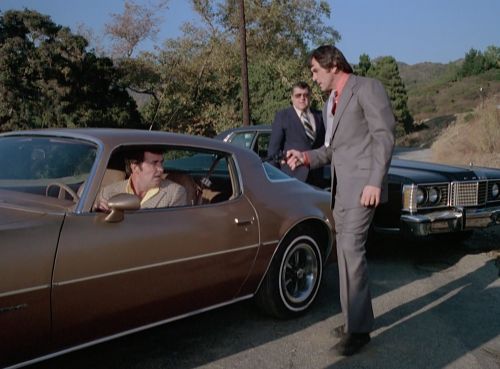 Where's Houston?
Broadcast: 20th February 1976
4 / 5
Rockford searches for the granddaughter of Rocky's old pal, Pete Preli, but his investigation uncovers a plot to gobble up real estate, including Preli's property in a rundown end of town.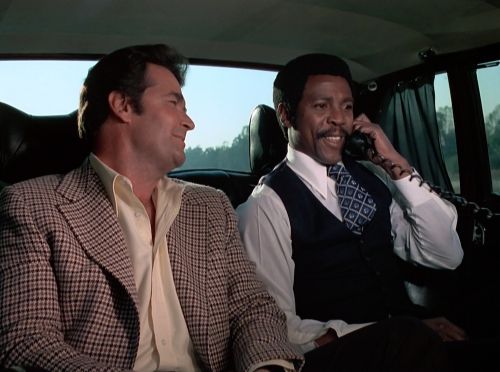 Foul on the First Play
Broadcast: 12th March 1976
5 / 5
A double-dealing old friend of Rockford's - a cop turned private eye - tries to help a questionable client obtain a basketball franchise.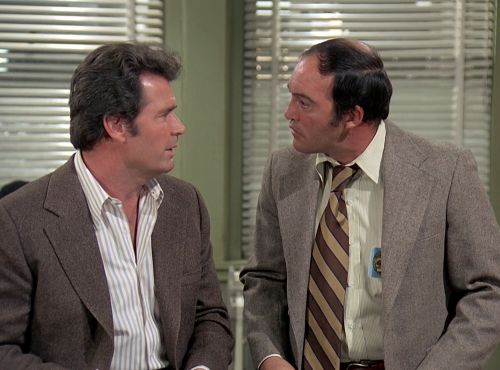 A Bad Deal in the Valley
Broadcast: 19th March 1976
4 / 5
A real estate entrepreneur uses her former boyfriend - an unwitting Jim Rockford - to transport counterfeit money for a grandiose land scheme.
Season 3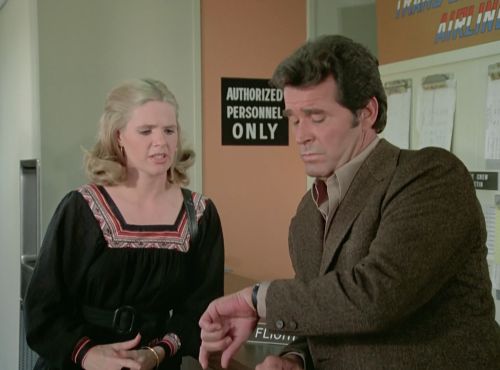 The Fourth Man
Broadcast: 24th September 1976
5 / 5
An airline stewardess becomes the target of an assassin for no apparent reason, until Rockford's sleuthing reveals an explanation.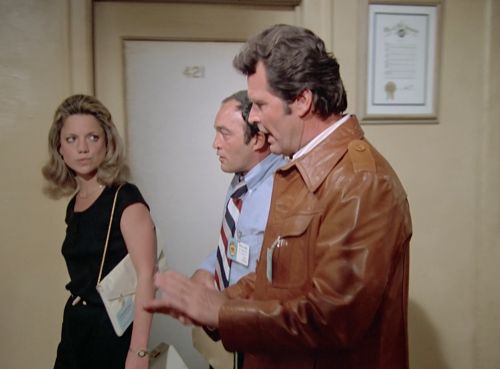 The Oracle Wore a Cashmere Suit
Broadcast: 1st October 1976
4 / 5
A phony psychic fingers Jim in the death of a dope pusher while ostensibly helping the police solve the slaying - but he's really only furthering his efforts to rob the dead man.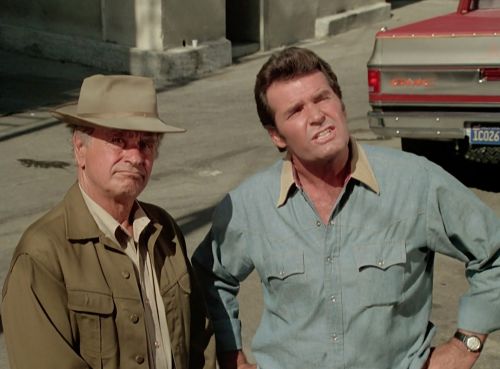 The Family Hour
Broadcast: 8th October 1976
4 / 5
Jim and Rocky become custodians of a 9-year-old girl who has apparently been abandoned by her father.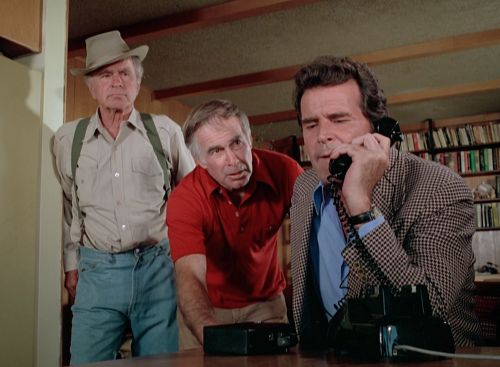 Feeding Frenzy
Broadcast: 15th October 1976
4 / 5
Jim's efforts to return a half million dollars stolen from an oil company by his fiancee's repentant father runs into complications.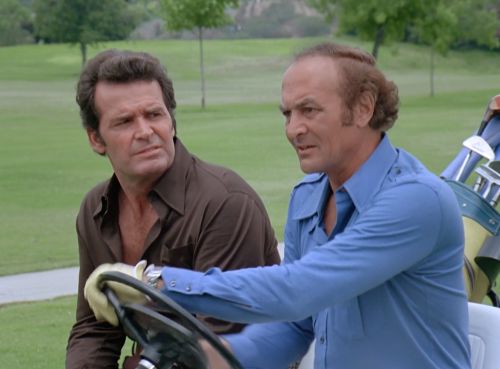 Drought at Indianhead River
Broadcast: 5th November 1976
4 / 5
Jim searches for his friend Angel, whose windfall riches from real estate are actually part of a tax swindle plan.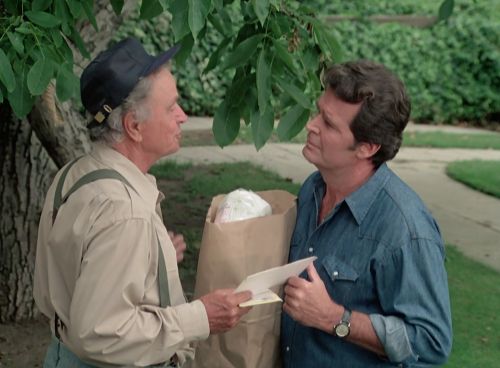 Coulter City Wildcat
Broadcast: 12th November 1976
4 / 5
Rocky's luck is short-lived after he hits a bonanza in an oil rights lottery. Two toughs rough him up, demanding that he sign away his rights.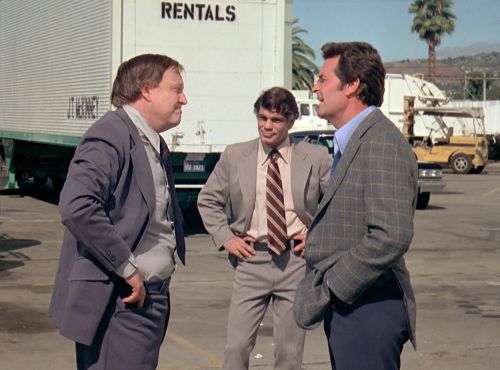 So Help Me God
Broadcast: 19th November 1976
4.5 / 5
Rockford is summoned before a grand jury concerning the alleged kidnapping of a union official, and before he is through they cite him for contempt and put him in a federal prison.
Rattlers' Class of '63
Broadcast: 26th November 1976
4 / 5
Angel's wedding plans turn out to be a ploy in a gigantic real estate scheme, and the Armenian brothers of the bride set out to get revenge.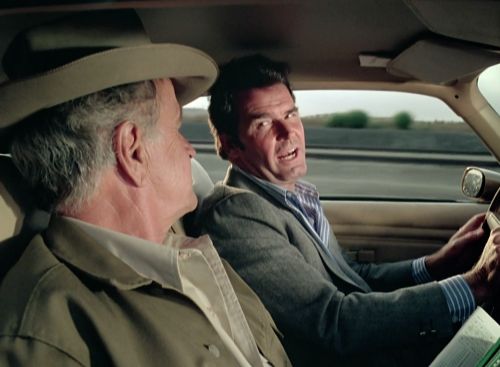 Return to the Thirty-Eighth Parallel
Broadcast: 10th December 1976
4 / 5
An old Army buddy inveigles Rockford into accepting a client who says she is looking for her missing sister, but the trail leads instead to stolen art objects.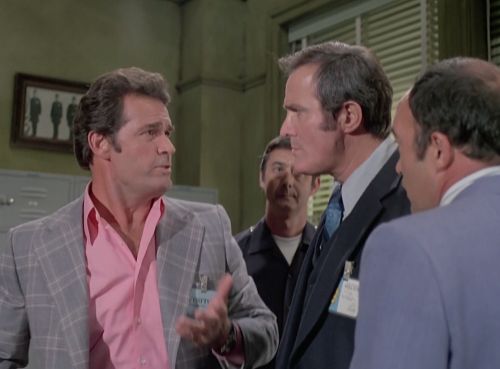 Piece Work
Broadcast: 17th December 1976
4 / 5
Jim Rockford is hired by an insurance company to check out an accident claim, and finds himself in the middle of a syndicate's gun-running operation.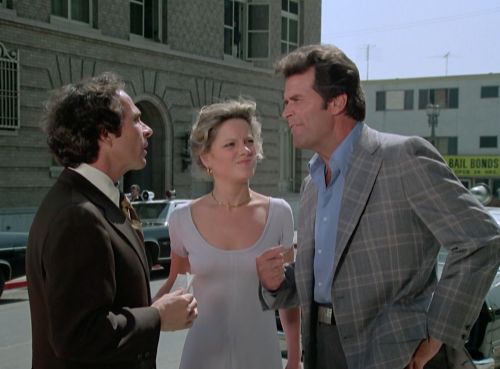 The Trouble with Warren
Broadcast: 24th December 1976
4 / 5
Rockford's attorney pressures him into helping her brilliant cousin who is suspected of slaying his boss, and Jim's investigation uncovers a web of bribery and conspiracy in a multinational corporation.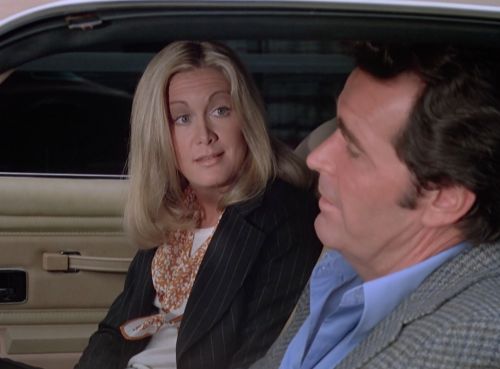 There's One in Every Port
Broadcast: 7th January 1977
5 / 5
Jim is taken by a father-daughter team of con artists who rob him and others of $200,000 at a private poker party.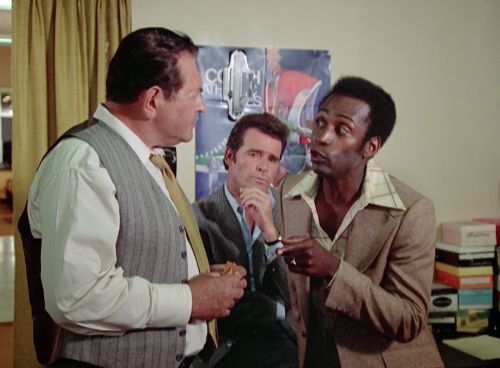 Sticks and Stones May Break Your Bones, but Waterbury Will Bury You
Broadcast: 14th January 1977
5 / 5
Rockford's clients are fellow private investigators who are being illegally forced out of business by a conglomerate agency which goes to elaborate means, including homicide, to stamp out competition.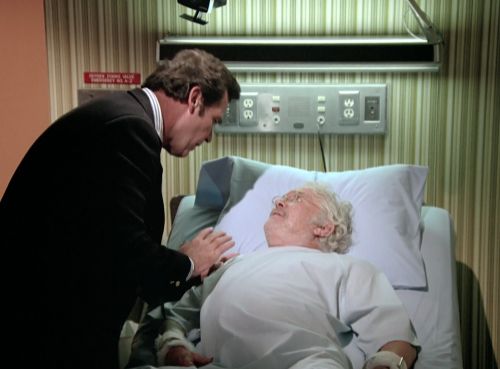 The Trees, the Bees and T.T. Flowers: Part 1
Broadcast: 21st January 1977
4.5 / 5
Rockford helps an old friend get out of a senior citizens hospital where his daughter and son-in-law have committed him.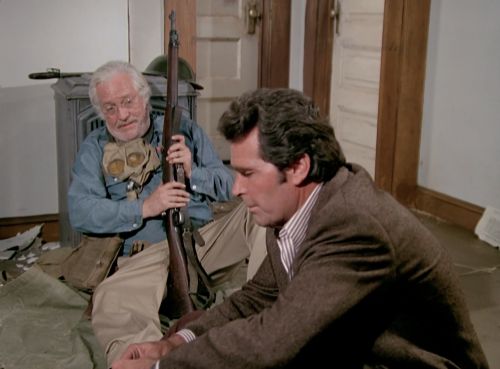 The Trees, the Bees and T.T. Flowers: Part 2
Broadcast: 28th January 1977
4.5 / 5
Jim Rockford succeeds in freeing T.T. Flowers from the sinister rest home where his scheming daughter and son-in-law had him committed, but the old man panics.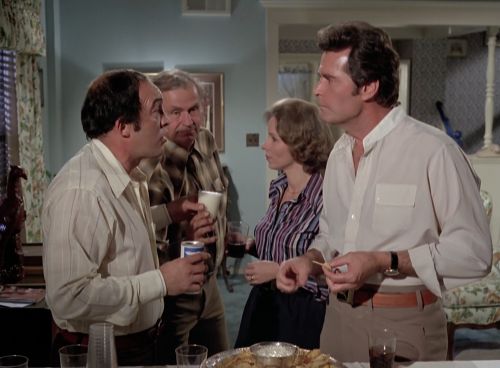 The Becker Connection
Broadcast: 11th February 1977
4 / 5
Det. Becker is suspended from the force when he is suspected of dealing drugs, but when Rockford investigates he uncovers a narcotics ring complete with a crooked cop.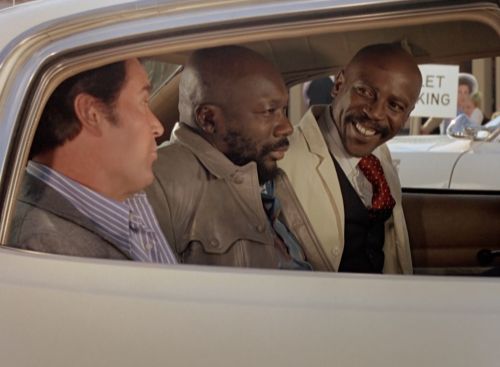 Just Another Polish Wedding
Broadcast: 18th February 1977
5 / 5
A prison crony of Rockford's, at Jim's suggestion, goes to work for a former parole officer turned detective who is secretly trying to deprive Rockford of a large fee.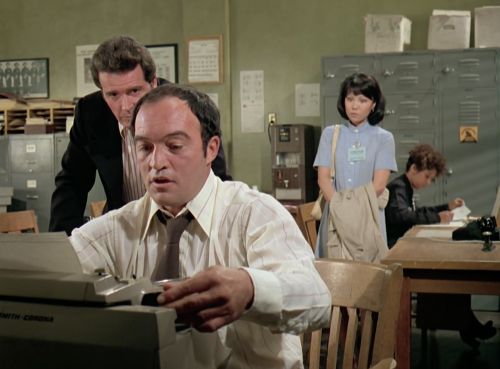 New Life, Old Dragons
Broadcast: 25th February 1977
3.5 / 5
A young Vietnamese woman, working for an American family, hires Rockford to locate her brother, a refugee. The trail leads to a bizarre kidnapping plot involving three ex-soldiers, a CIA agent and a stolen Army payroll.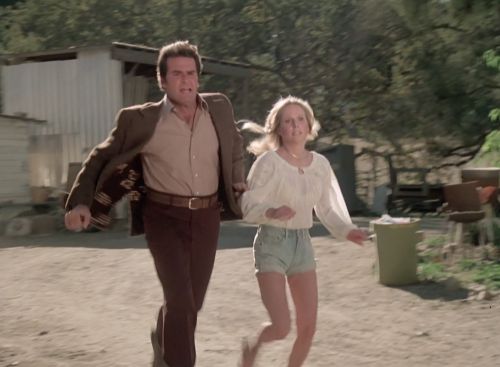 To Protect and Serve: Part 1
Broadcast: 11th March 1977
4 / 5
A police buff causes problems for Det. Becker when she involves herself in Rockford's search for a mobster lawyer's missing fiancee.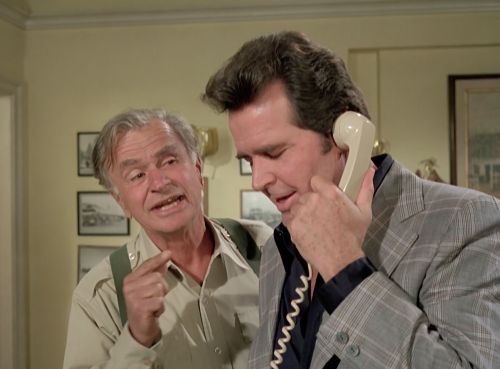 To Protect and Serve: Part 2
Broadcast: 18th March 1977
4 / 5
Rockford plots the spectacular rescue of a young woman whom mobsters are trying to eliminate, but an enthusiastic police buff reveals the location of the woman's new hideout.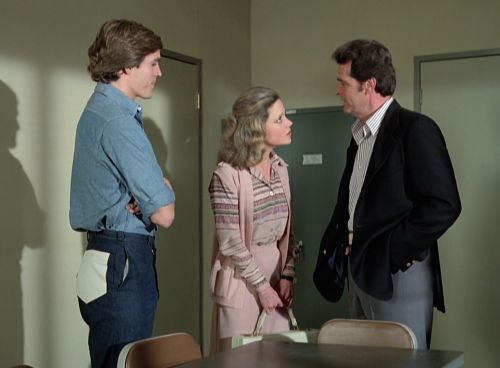 Crack Back
Broadcast: 25th March 1977
4 / 5
Jim is hired by attorney Beth Davenport to locate a missing witness who will provide an alibi for her client, a football player accused of homicide.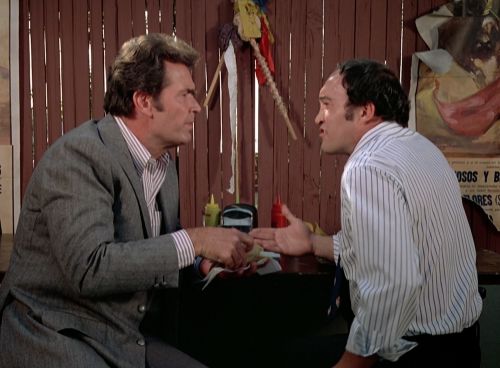 Dirty Money, Black Light
Broadcast: 1st April 1977
5 / 5
When Rocky suddenly starts receiving large amounts of money in the mail, both federal agents and mobsters are interested.
Season 4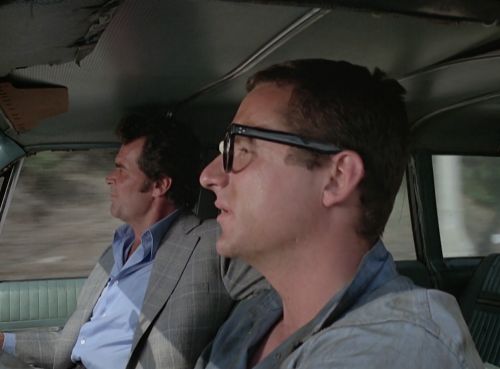 Beamer's Last Case
Broadcast: 16th September 1977
4 / 5
While Jim Rockford is on vacation, a fantasizing mechanic assumes his identity, uses his credit cards, and manages to foil a Mafia takeover of the taxicab business.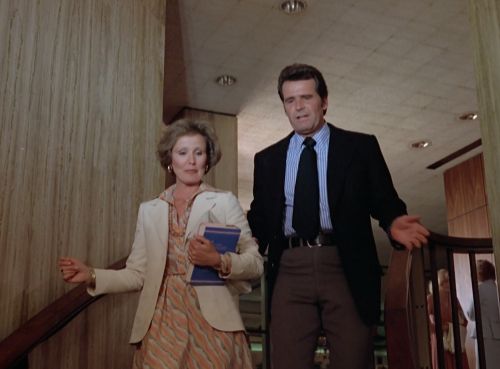 Trouble in Chapter 17
Broadcast: 23rd September 1977
3.5 / 5
A best-selling author hires Rockford to investigate threats against her life, but Jim becomes the murder assailant's next target.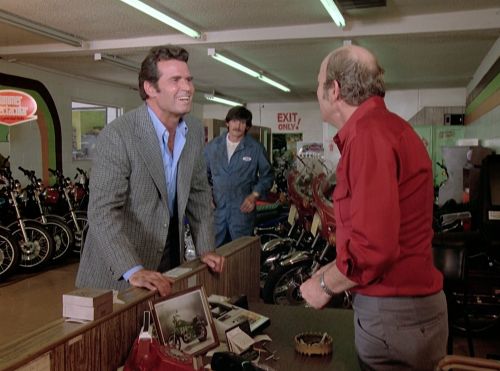 The Battle of Canoga Park
Broadcast: 30th September 1977
4 / 5
Troubles mount for Jim when his gun is found at the scene of a homicide, and his alibi - that it was stolen from his cookie jar - adds little to his defense.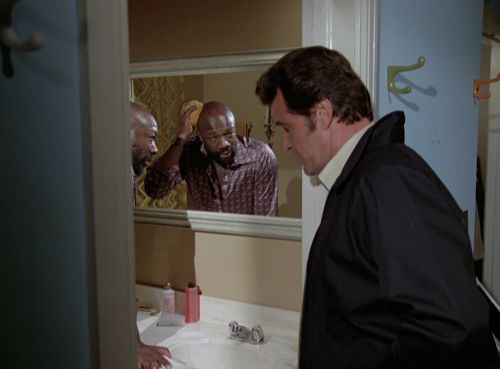 Second Chance
Broadcast: 14th October 1977
4 / 5
Jim helps his friend Gandolph Fitch protect Fitch's girlfriend from her brutal ex-husband and finds himself confronting a dangerous gang of counterfeiters.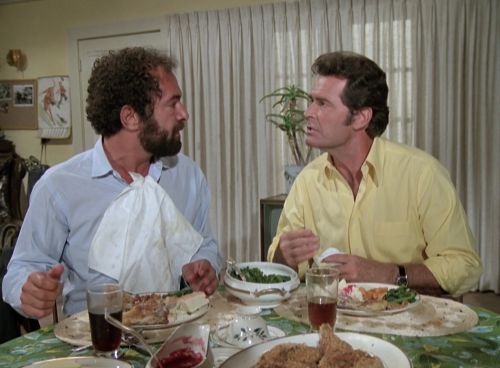 The Dog and Pony Show
Broadcast: 21st October 1977
5 / 5
A terrified young woman seeks Rockford's aid, pitting him against agents of a crime syndicate and an intelligence organization.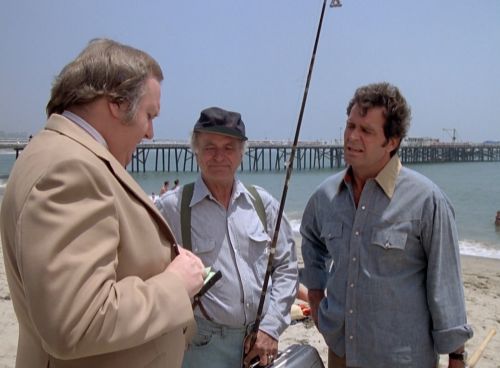 Requiem for a Funny Box
Broadcast: 4th November 1977
4 / 5
A comic leaves Jim hanging with a homicide charge rather than admit to poilce that he has a file-card box of jokes.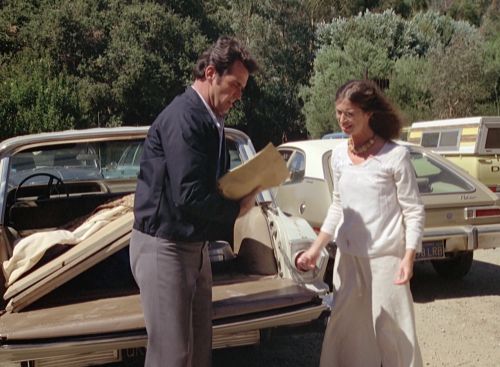 Quickie Nirvana
Broadcast: 11th November 1977
4 / 5
Rockford does a favor for a hippie-type girl camped at the beach, and his good deed turns into a nightmare, placing his life in jeopardy.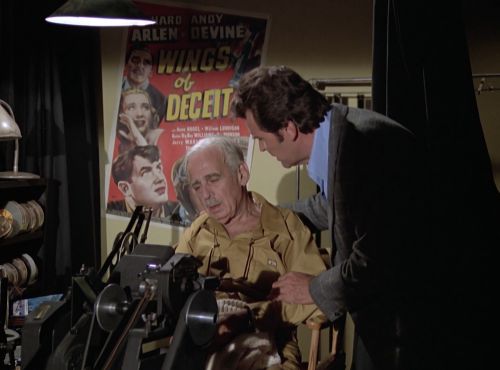 Irving the Explainer
Broadcast: 18th November 1977
5 / 5
Jim becomes involved with an old murder case, the French state police and German gangsters in a search for a priceless missing painting.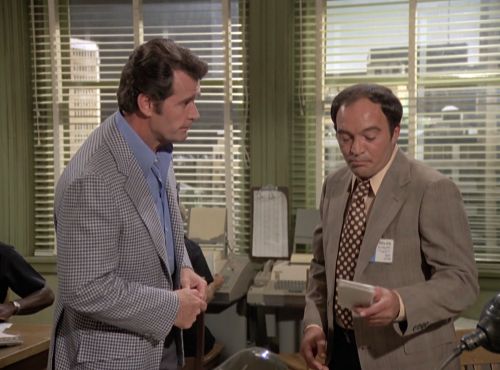 The Mayor's Committee from Deer Lick Falls
Broadcast: 25th November 1977
4 / 5
Rockford is hired by a small town's citizens as a hit man to find and dispose of a girl who could reveal their tax dodge to the IRS.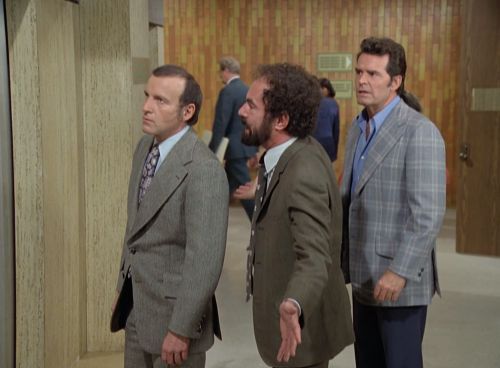 Hotel of Fear
Broadcast: 2nd December 1977
5 / 5
Angel, slated to testify against a syndicate hit man, lives it up in posh hotels under police protection until the suspect is freed on a technicality.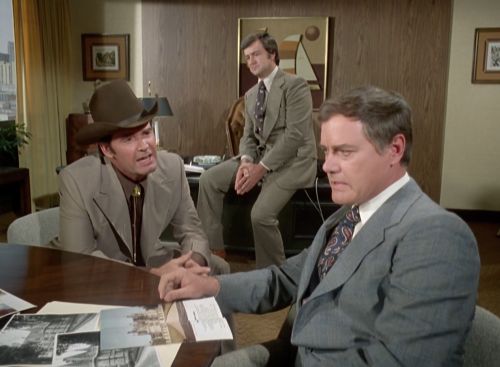 Forced Retirement
Broadcast: 9th December 1977
3.5 / 5
Rockford masquerades as a wealthy oil baron and risks his life to check out a company's claim that it has developed a new offshore oil recovery device.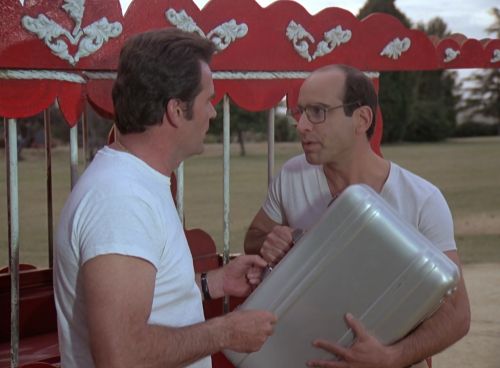 The Queen of Peru
Broadcast: 16th December 1977
4 / 5
Rockford pursues a vacationing family who are unaware that they are in possession of an extremely valuable stolen diamond.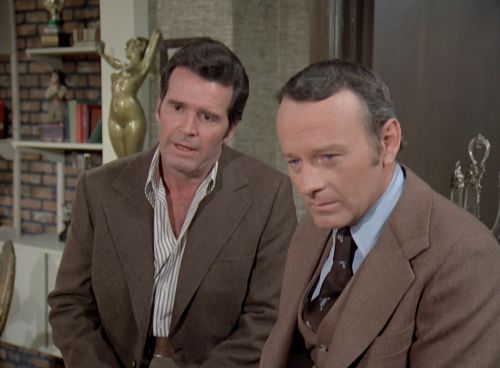 A Deadly Maze
Broadcast: 23rd December 1977
5 / 5
Jim is duped by a seemingly deranged scientist, who puts him through an elaborate stress exercise under the guise of investigating a homicide.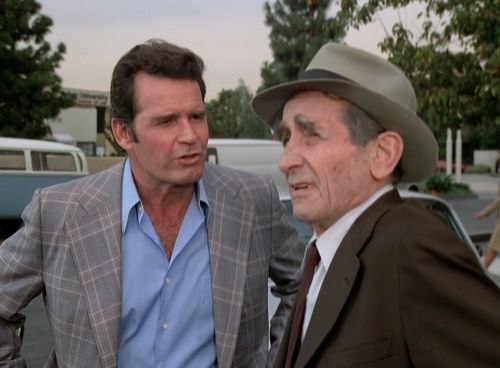 The Attractive Nuisance
Broadcast: 6th January 1978
4 / 5
Rocky's partner in a roadside restaurant business is plagued by a vengeful, retired FBI agent.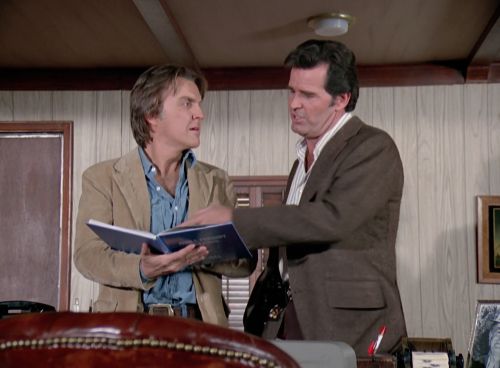 The Gang at Don's Drive-In
Broadcast: 13th January 1978
3.5 / 5
A washed-up author inveigles Jim into researching a project involving the graduating class of '62, and in the process Rockford uncovers a homicide.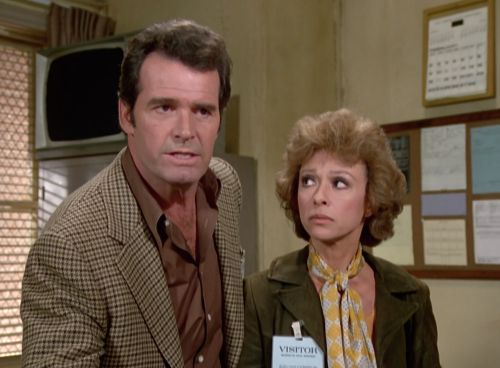 The Paper Palace
Broadcast: 20th January 1978
4 / 5
A "Professional Escort" hires Rockford to investigate when she is assaulted by two men for no apparent reason.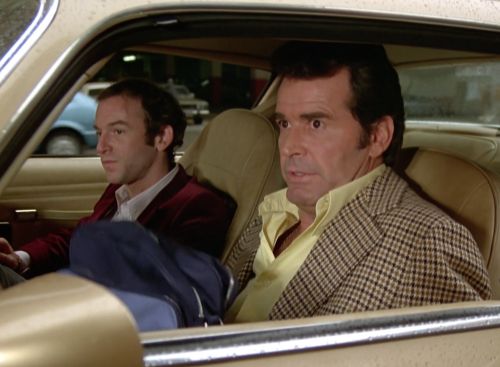 Dwarf in a Helium Hat
Broadcast: 27th January 1978
4 / 5
After receiving a death threat, Jim decides that the caller meant to contact a playboy whose name is listed next to his in the telephone book.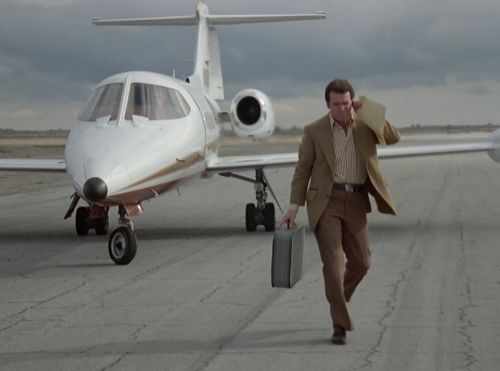 South by Southeast
Broadcast: 3rd February 1978
5 / 5
Rockford is mistakenly abducted by the CIA and involved in a plot to help an heiress escape from her husband.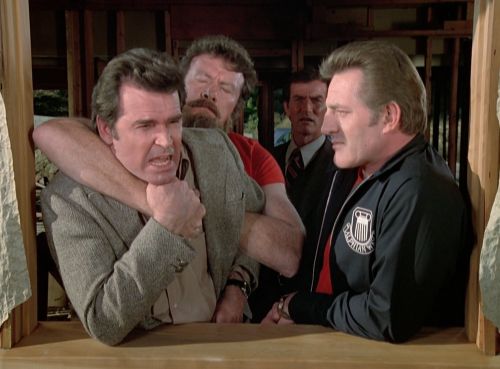 The Competitive Edge
Broadcast: 10th February 1978
5 / 5
Jim follows the trail of a banker who has skipped bail, to a mental institution where he unwillingly becomes a patient.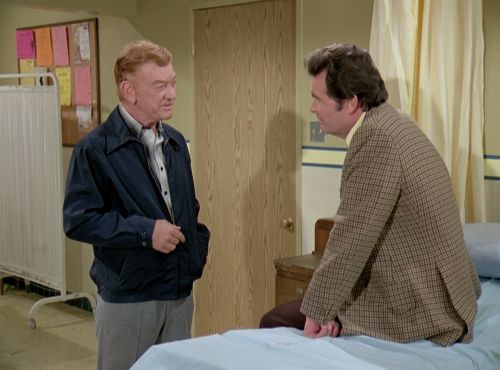 The Prisoner of Rosemont Hall
Broadcast: 17th February 1978
4 / 5
Rockford investigates the hazing death of a young college friend and, in the process, uncovers a second kidnapping-homicide involving a wealthy Arab student.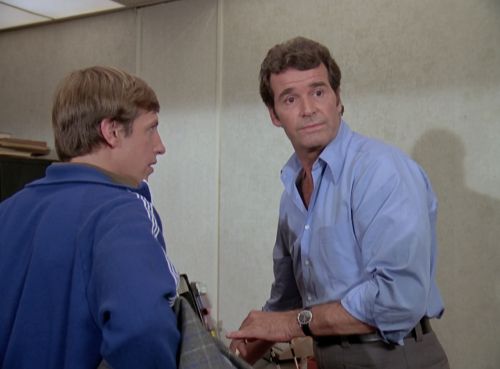 The House on Willis Avenue (2 Episodes)
Broadcast: 24th February 1978
5 / 5
Jim is joined by neophyte detective Richie Brockelman to probe the suspicious traffic death of a semi-retired private eye, and the trail leads to a conglomerate executive and a plot to gain international power through an elaborate computer system.
Season 5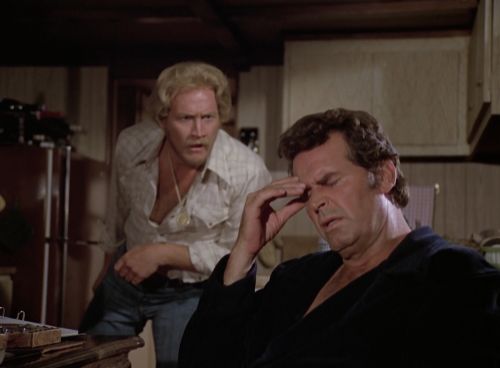 Heartaches of a Fool
Broadcast: 22nd September 1978
4 / 5
A country recording artist is double-crossed by his business manager, who has involved him with rival mobs in the Chinese-American underworld.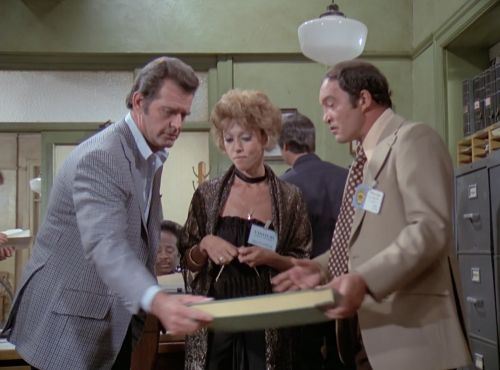 Rosendahl and Gilda Stern are Dead
Broadcast: 29th September 1978
5 / 5
Rita seeks Jim's protection after she witnesses an underworld assassination and is accused of the murder.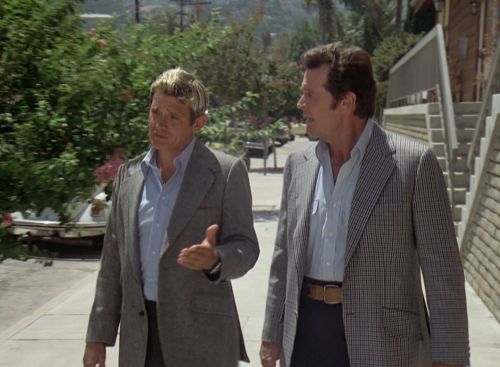 The Jersey Bounce
Broadcast: 6th October 1978
4 / 5
Jim Rockford is framed for the slaying of a notoriously tough hood and must turn for help to a disbarred lawyer to keep from going to jail.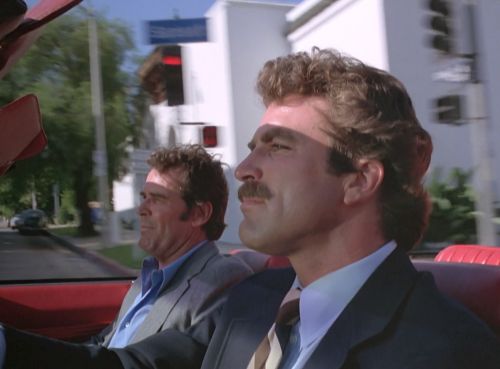 White on White and Nearly Perfect
Broadcast: 20th October 1978
5 / 5
Rockford's search for a missing girl is hampered by another detective hired to work on the case.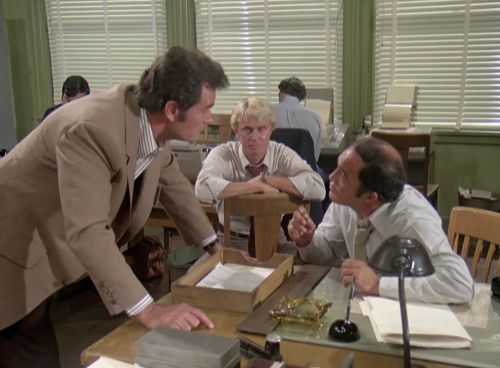 Kill the Messenger
Broadcast: 27th October 1978
5 / 5
Jim jeopardizes his friendship with detective Becker when he begins investigating the murder of the deputy police chief's philandering wife.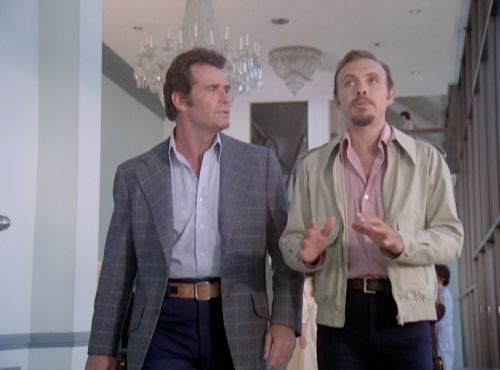 A Good Clean Bust with Sequel Rights
Broadcast: 3rd November 1978
4 / 5
Jim is hired by an insurance company to babysit an ex-cop turned TV actor who keeps getting into trouble.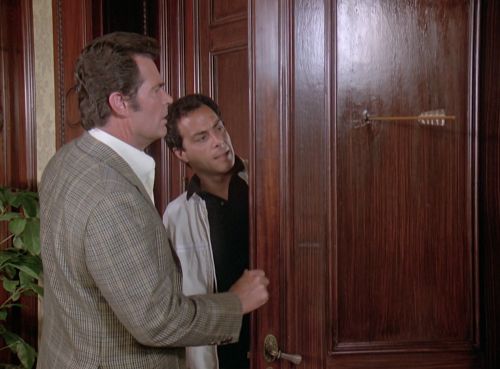 A Three-Day Affair with a Thirty-Day Escrow
Broadcast: 10th November 1978
4 / 5
Jim is hired to protect an Arabian princess from her family after she disgraces them by becoming involved in a real-estate swindle.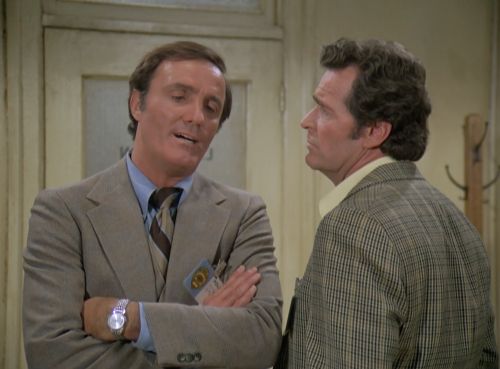 The Empty Frame
Broadcast: 17th November 1978
4.5 / 5
Jim and his old nemesis, Lt. Chapman, are forced to cooperate to recover valuable paintings stolen from the new police commissioner.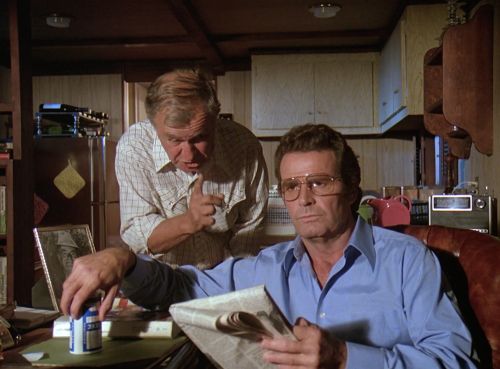 Black Mirror (2 Episodes)
Broadcast: 24th November 1978
4.5 / 5
Jim becomes romantically involved with a blind psychologist who is being harrassed by an unknown assailant.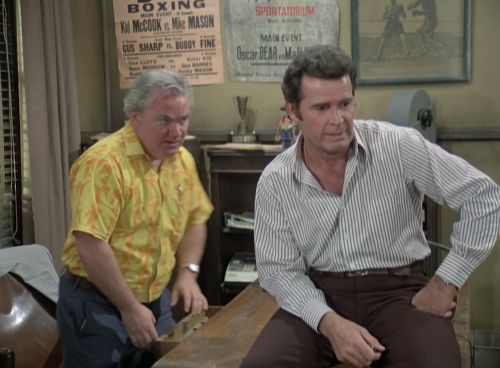 A Fast Count
Broadcast: 1st December 1978
4 / 5
Rockford investigates charges of bribery and murder against the manager of a promising young boxer.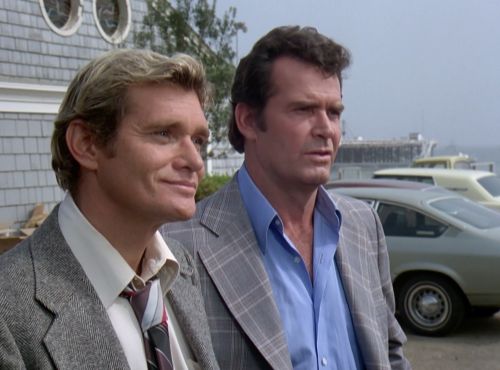 Local Man Eaten by Newspaper
Broadcast: 8th December 1978
3.5 / 5
Jim becomes the target of a sleazy scandal newspaper while investigating a murder.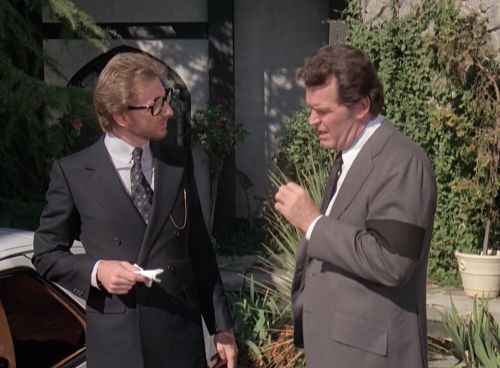 With the French Heel is Back, can the Nehru Jacket be Far Behind?
Broadcast: 5th January 1979
5 / 5
A fashion model friend of Jim is found dead on the ground below her balcony. The police believe it's suicide, but having gotten a desperate phone call from her, Jim believes it's murder.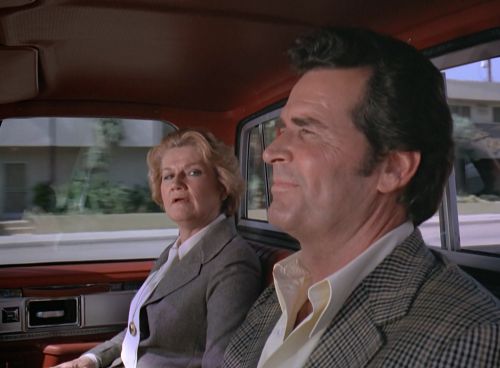 The Battle-Ax and the Exploding Cigar
Broadcast: 12th January 1979
4 / 5
Jim, arrested in a stolen car filled with weapons, becomes a pawn in a deadly game of illegal gun-running.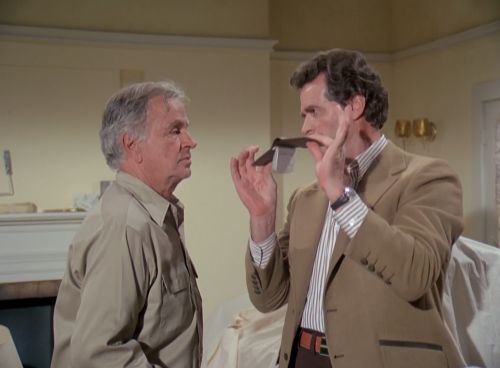 Guilt
Broadcast: 19th January 1979
3.5 / 5
Jim faces painful memories when investigating the attempted murder of a former girlfriend.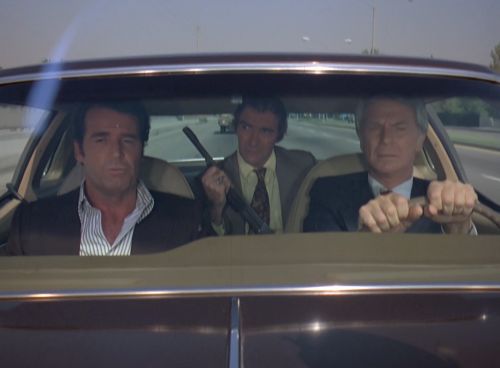 The Deuce
Broadcast: 26th January 1979
5 / 5
Rockford ends up in a deadly game of blackmail when he tries to clear a drunk driver falsely accused of murder.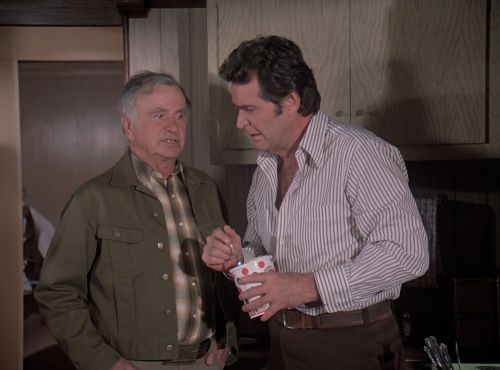 The Man Who Saw the Alligators
Broadcast: 10th February 1979
4 / 5
An ex-con believes Rockford to be responsible for his imprisonment and seeks revenge.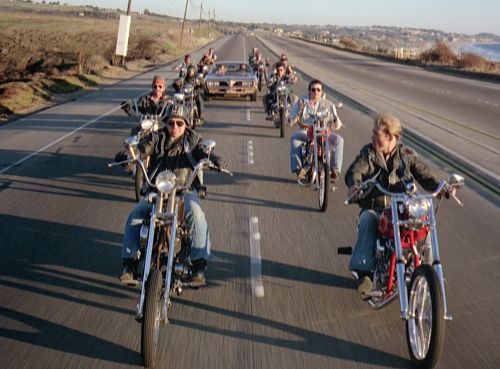 The Return of the Black Shadow
Broadcast: 17th February 1979
3.5 / 5
A friend of Rockford's infiltrates a motorcycle gang to avenge their attack on his sister and Jim.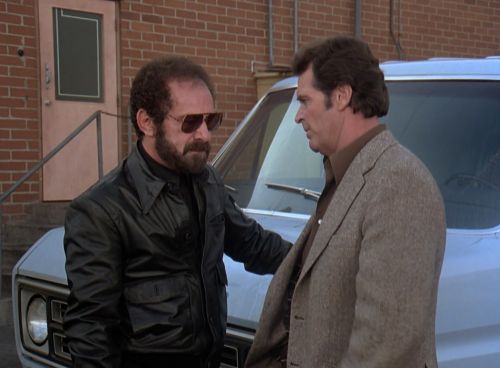 A Material Difference
Broadcast: 24th February 1979
4 / 5
Angel poses as a high-priced hit man, but it's Rockford who must save his life when Angel collects the fee but fails to deliver the goods.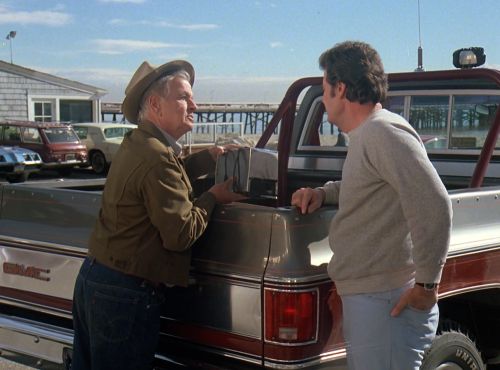 Never Send a Boy King to do a Man's Job (2 Episodes)
Broadcast: 3rd March 1979
5 / 5
Rockford and his pal Richie Brockelman devise an elaborate scheme to get Richie's father's business back from the hands of gangsters.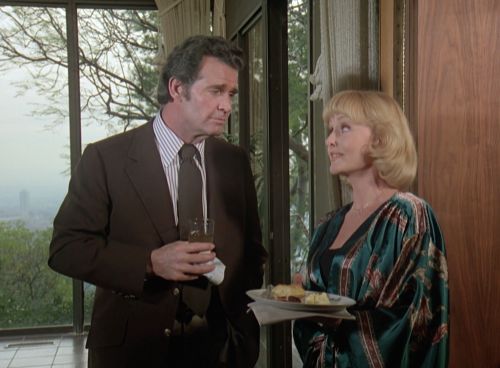 A Different Drummer
Broadcast: 13th April 1979
4 / 5
Rockford, hospitalized following an accident, sees a transplant organ removed from an unaware and very much alive donor.
Season 6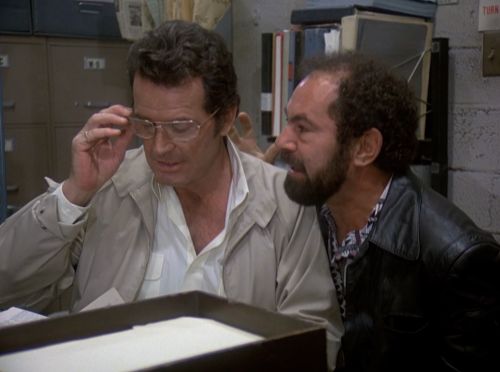 Paradise Cove
Broadcast: 28th September 1979
4.5 / 5
Rockford's peaceful life is upset by a hard-nosed woman appointed by the court to collect $35,000 in a judgment from the detective for allegedly injuring a neighbor with his car.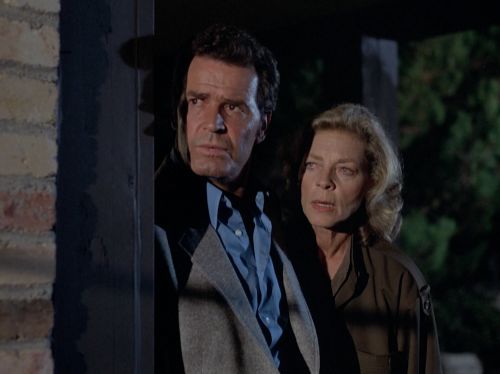 Lions, Tigers, Monkeys and Dogs (2 Episodes)
Broadcast: 12th October 1979
4 / 5
Rockford is hired by a princess to investigate several attempts on the life of her best friend.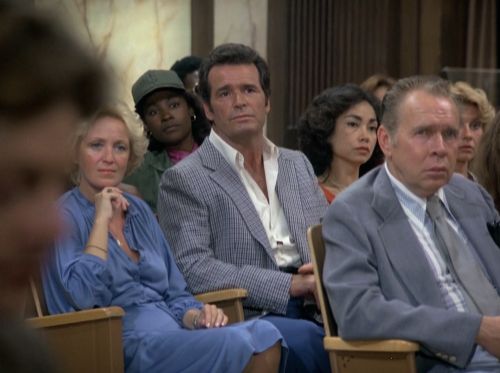 Only Rock 'n' Roll Will Never Die: Part 1
Broadcast: 19th October 1979
3.5 / 5
A popular rock star, being sued for half his album profits by his ex-girlfriend, hires Rockford to find his missing producer.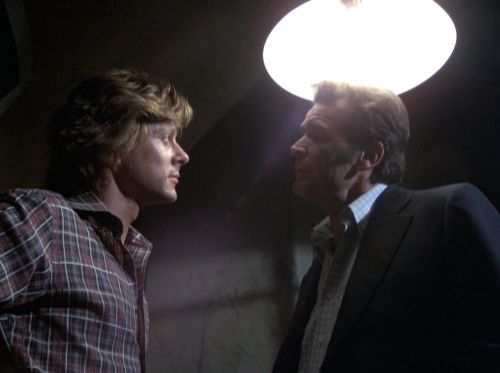 Only Rock 'n' Roll Will Never Die: Part 2
Broadcast: 26th October 1979
3.5 / 5
Rockford shifts his attention to the "palimony" court case involving a rock star's ex-girlfriend, after the performer's best friend is found murdered.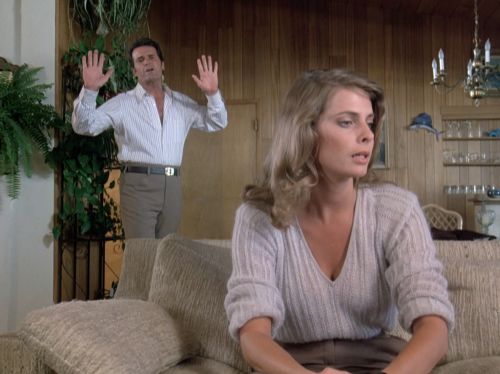 Love is the Word - Some Things You can Tell Yourself
Broadcast: 9th November 1979
4 / 5
A blind psychologist whom Jim once dated hires him to find her fiancee, who has disappeared.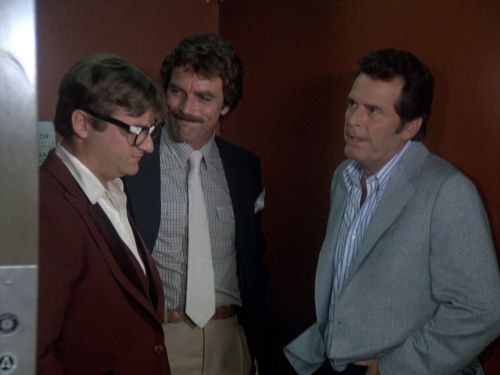 Nice Guys Finish Dead
Broadcast: 16th November 1979
4.5 / 5
Two young detectives help Jim solve the mysterious slaying of a Senator who was about to address a group of detectives.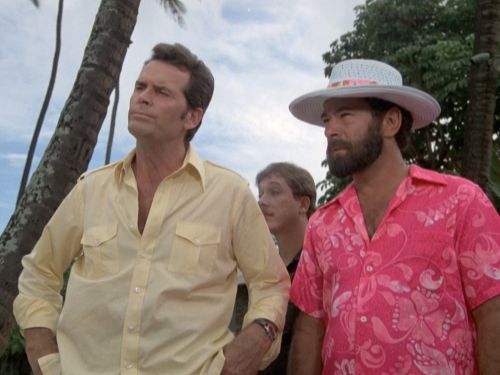 The Hawaiian Headache
Broadcast: 23rd November 1979
4 / 5
Jim and his father win a Hawaiian vacation, where Rockford is dragooned into a "routine" intelligence errand by his old Army commander, "Howling Mad" Smith.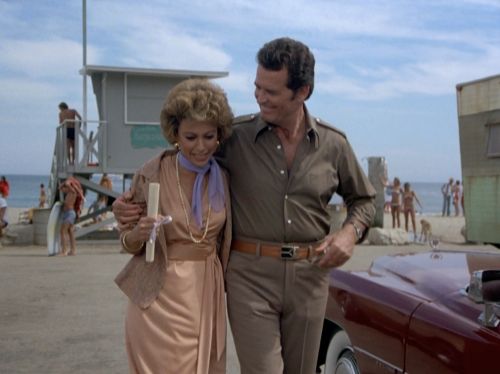 No Fault Affair
Broadcast: 30th November 1979
4 / 5
A "Professional Escort" Jim helped to get off the streets returns and falls in love with him after suffering a beating at the hands of her sadistic pimp.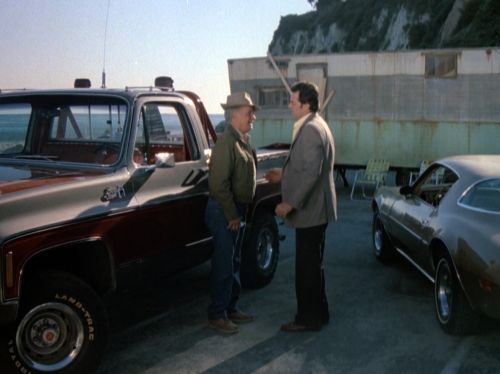 The Big Cheese
Broadcast: 7th December 1979
5 / 5
A reporter is slain after mailing Rockford a critical piece of evidence about a labor union-mob connection, but the package gets lost in the mail.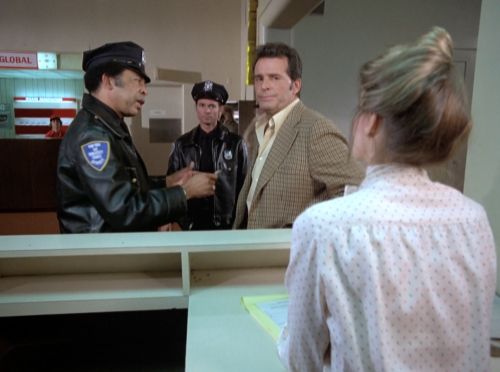 Just a Coupla Guys
Broadcast: 14th December 1979
3 / 5
Two young men are forced to flee for their lives when their efforts to impress a former syndicate chief backfire.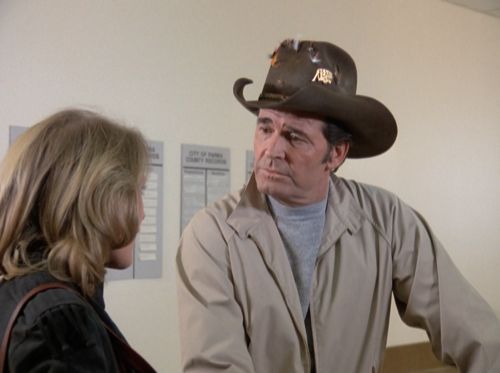 Deadlock in Parma
Broadcast: 10th January 1980
5 / 5
When Jim agrees to be a proxy for his friend, a small-town councilman, he is caught between two sinister factions vying for control of the village.
 People / Cast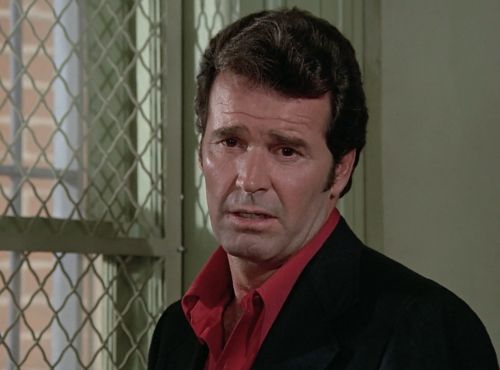 Jim Rockford
He is a struggling private investigator operating in the greater Los Angeles area, and played by James Garner.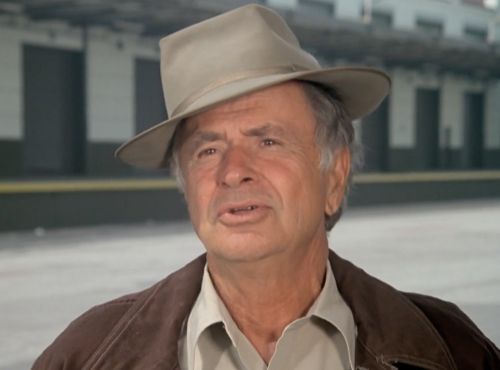 Joseph "Rocky" Rockford
A retired truck driver played by Noah Beery Jr. (The role was played by actor Robert Donley in the 1974 pilot episode.)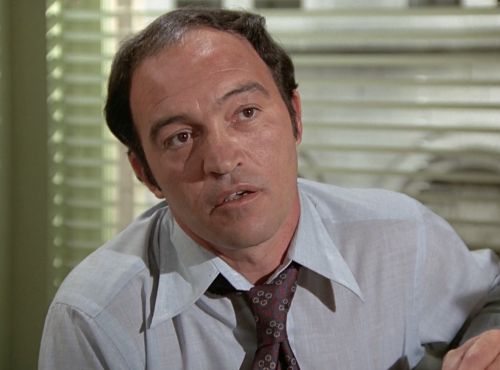 Dennis Becker
He is Jim's friend on the Los Angeles Police Department - he was promoted to lieutenant in season five. Dennis was played by Joe Santos.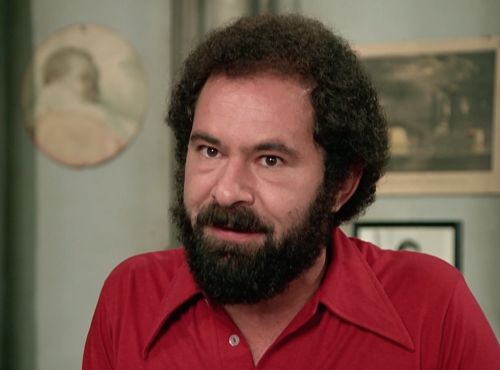 Evelyn "Angel" Martin
Jim's Former Prison Friend
Angel is an untrustworthy, pathologically lying con artist whose schemes constantly get Jim in trouble, yet Jim remains his friend. He was played by Stuart Margolin.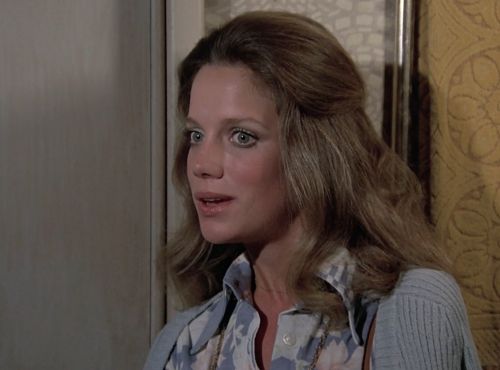 Elizabeth "Beth" Davenport
She Jim's lawyer and sometime girlfriend (seasons 1–4). She is played by Gretchen Corbett.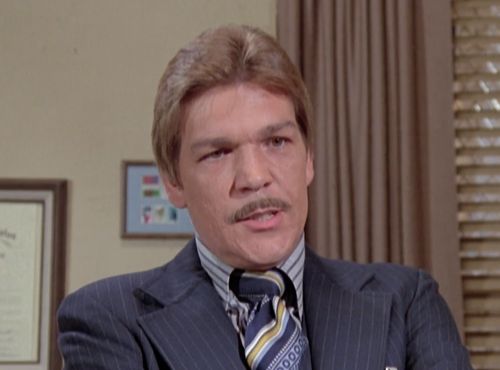 Alex Diel
Alex/Thomas Diehl, Becker's superior officer (seasons one-two and four) who also has an antagonistic relationship with Rockford. He was played by Tom Atkins.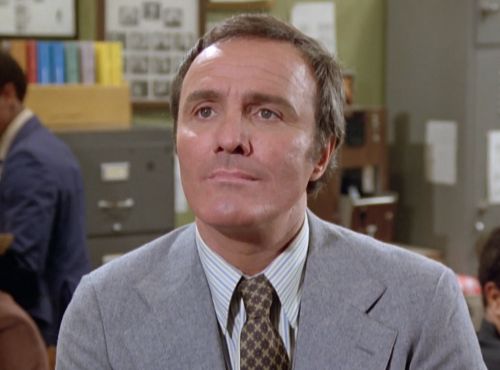 Douglas J. "Doug" Chapman
He is Becker's Superior Officer (until Becker's promotion). He and Jim always despise each other. He was played by James Luisi.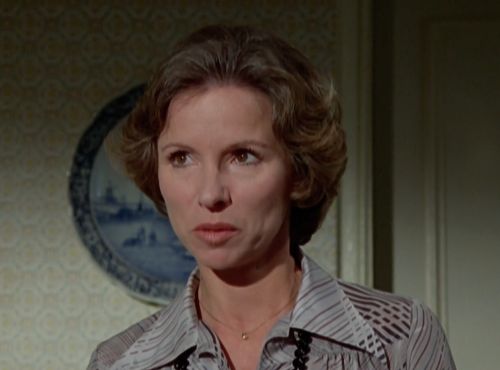 Gandolph "Gandy" Fitch
Jim's Former Prison Acquaintance
He was a brutal, violent acquaintance of Rockford from his prison days. He almost always calls Jim "Rockfish". He was played by Isaac Hayes.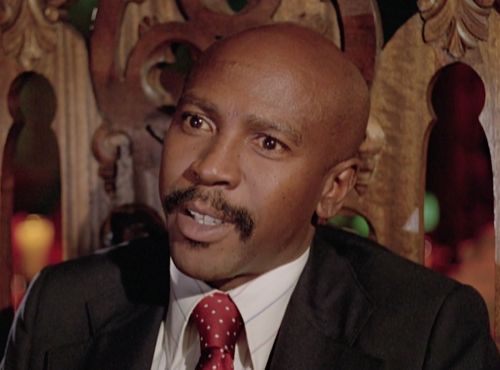 Marcus Aurelius "Gabby" Hayes
He an impeccably dressed, chauffeur-driven, boastful P.I. who is nearly always on a hustle, usually to Rockford's misfortune. He is played by Louis Gossett Jr.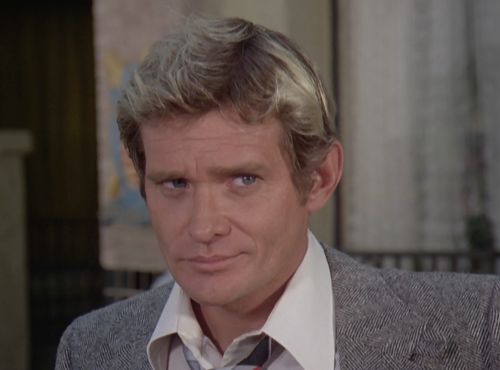 John "Coop" Cooper
Jim's disbarred attorney friend. He was played by Bo Hopkins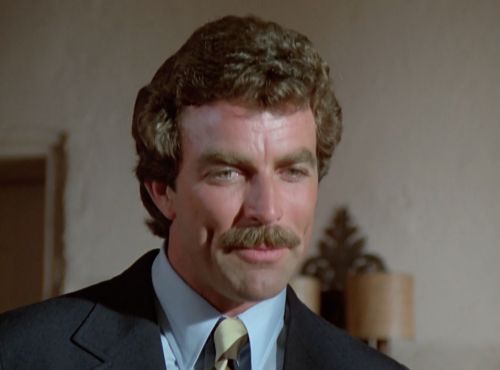 Lance White
He is a successful private investigator with an uncynical approach to the business. Jim is a bit jealous of Lance and considers him naive and lucky and likely to cause others to get hurt. He was played by Tom Selleck.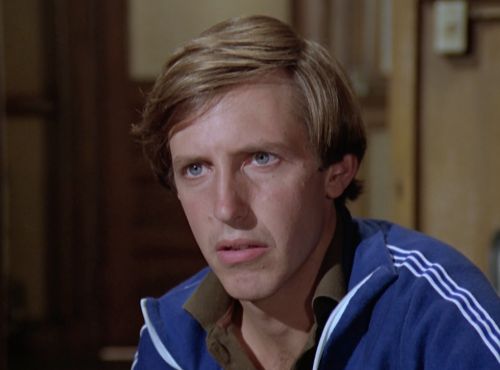 Richie Brockelman
He is a young, idealistic and seemingly naive private investigator who seeks Jim's help from time to time. He was played by Dennis Dugan.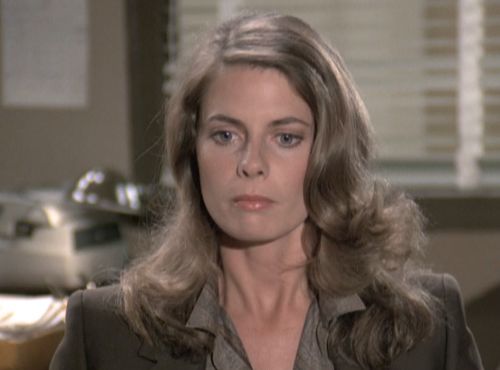 Dr. Megan Dougherty
She is a blind psychiatrist who hires Jim. Their relationship eventually blossoms into a romance. Jim is upset in a later episode to learn that she has become engaged to another man. She was played by Kathryn Harrold.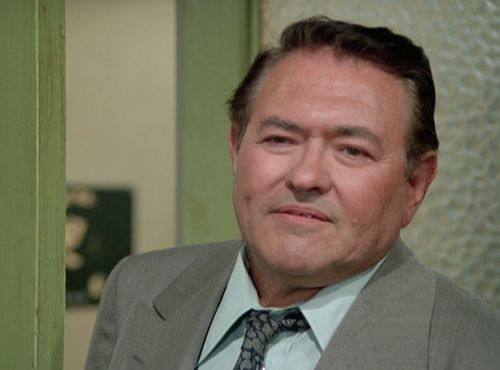 Vern St. Cloud
He a blustery, arrogant, and often untrustworthy fellow private investigator. St. Cloud and Rockford grudgingly accept each other's assistance from time to time, trading insults along the way. He was played by Simon Oakland.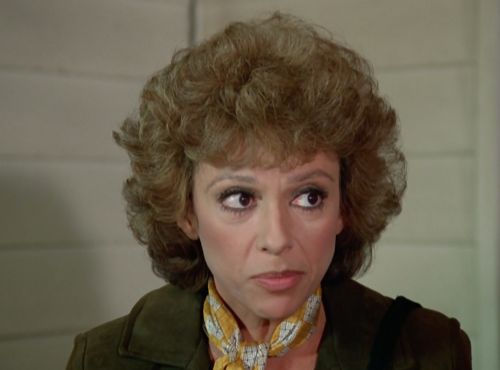 Rita Capkovic
She was a call girl and occasional police informant who is targeted by a millionaire businessman because of her friendship with an elderly widow. She is played by Rita Moreno.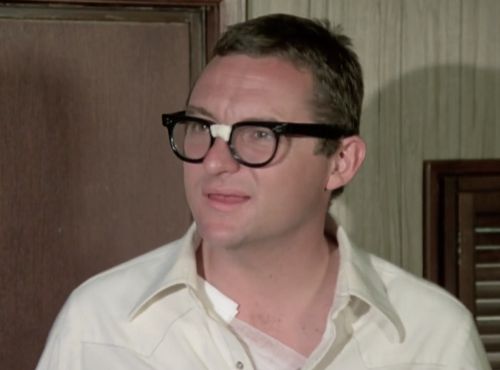 Fred Beamer
Auto Mechanic (Would-be Private Eye)
He is an auto mechanic who aspires to be a Private Investigator, and involves himself in Jim's affairs. He is played by James Whitmore, Jr.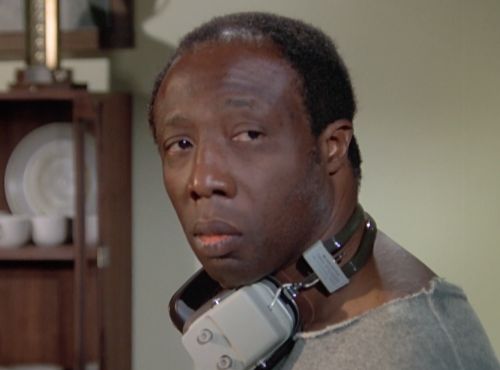 L.J.
He is a friend of Rocky's, who often performs odd jobs for Rocky and Jim. He is played by Al Stevenson.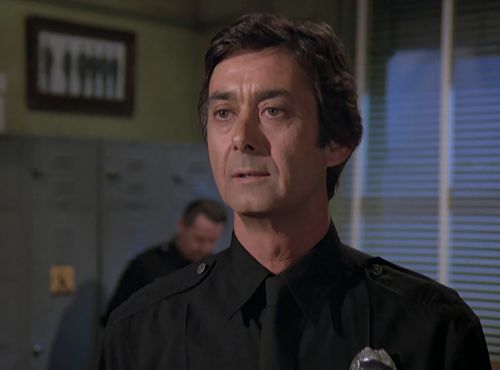 Todd Billings
He is seen frequently at the precinct or at crime scenes. The actor who played the part (Luis Delgado) was the brother-in-law of 'The Rockford Files' series co-creator Roy Huggins.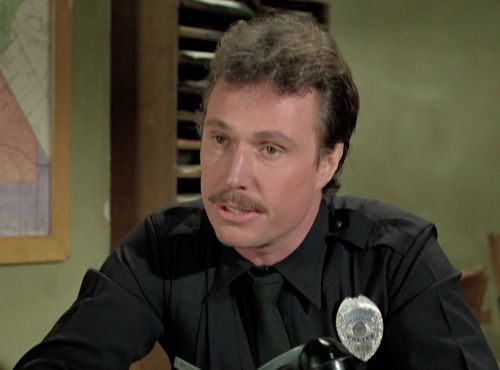 Al Mazursky
He was another recurring bit-part officer very occasionally seen at the precinct during seasons two-five. He was played by Bucklind Beery who is the son of Noah Beery (Joseph "Rocky" Rockford).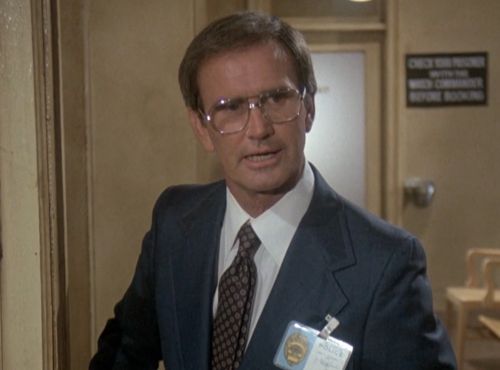 McEnroe plus numerous bit parts
Captain McEnroe was played by Jack Garner (Real life brother of James Garner).
---
Visitors also viewed these posts